Even if you live in a great place to ride, sooner or later you'll start yearning for adventure. More often than not, the most memorable riding experiences require some traveling. While traveling with a bike in tow might sound like a headache, it doesn't have to be. As intimidating as it might first seem, it's actually a pretty basic skill for any cyclist to pick up. Sure, some circumstances may require that you entrust others with the logistics, raising the concern that those handling your bike might not be as careful as you would be. There are, however, some simple steps you can take to increase the likelihood of your beloved bike safely surviving whatever travel experiences come its way.
Not so long ago, taking your bike on a plane felt like an ordeal: airline fees and requirements varied wildly and to make matters worse, continuously changed. Luckily, the market economics worked themselves out and costs and requirements have normalized. You can expect to pay $70-$150 to bring your bike along each way and the airlines are happy to take your money. If traveling by plane is on the agenda, there are a few things that ought to be considered before packing up and flying out.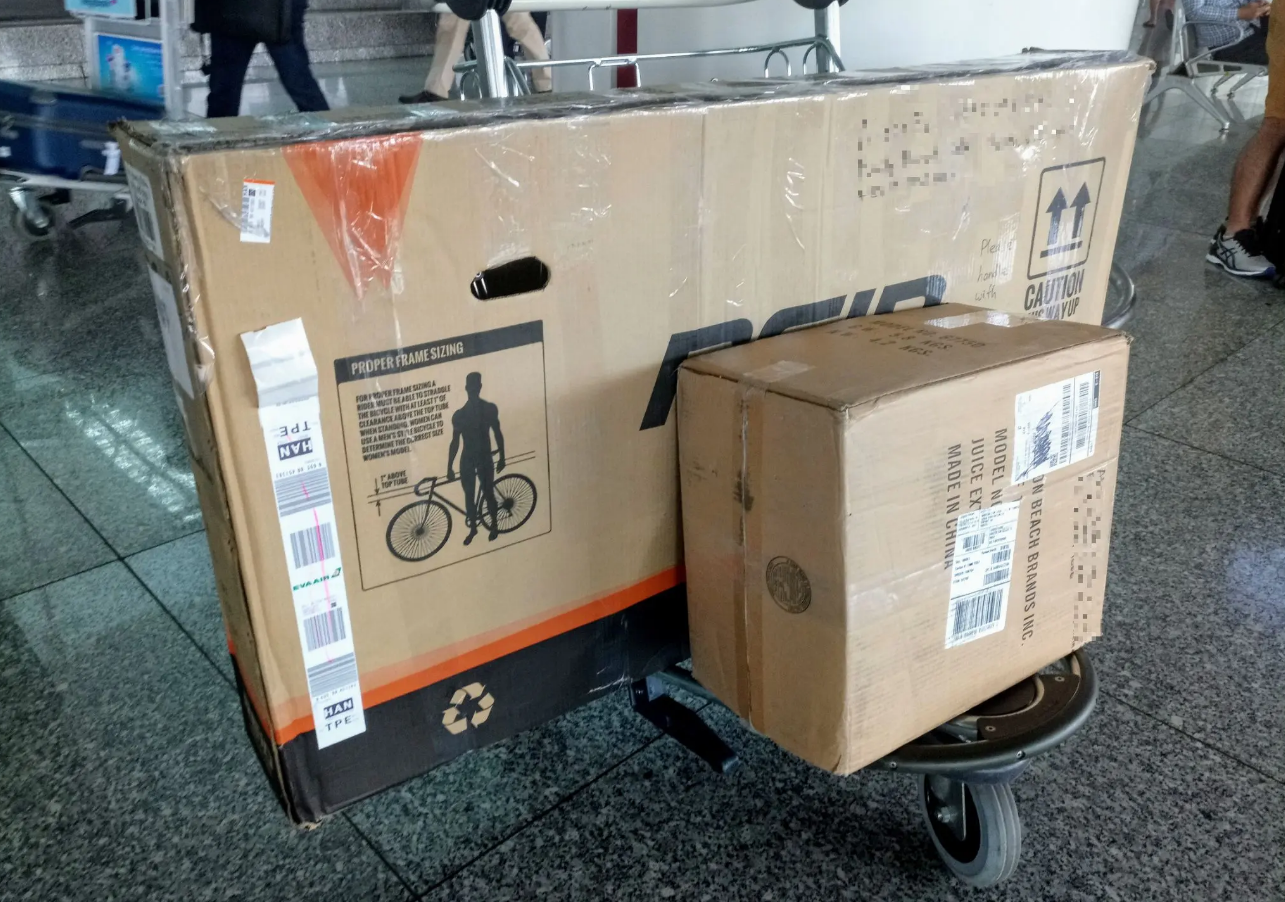 Bike case options: hard or soft
There are two kinds of cases on the market. Depending on availability, needs, and preferences, you will either end up with a soft or hard case.
The early generations of hard cases were cavernous and travelers who took the time could, in addition to their bikes, fit their entire wardrobe inside. These cases were so large that most were a tight fit in the back of a mid-size SUV! Eventually, the airlines changed the dimensions requirements and practically all of these cases became oversized luggage, commanding additional $50-$250 fees on top of the regular bike fee. These cases can still be rented from many bike shops and provide ultimate security for your bike.
People managed to get away with paying regular bag fees while carrying bikes in these cases, but it was only a matter of time before the airlines caught onto this and started identifying them. The market reacted again and produced a generation of soft cases that "check all the boxes" with providing a manageable size, adequate protection, and requiring minimal bike disassembly. The best softshell cases have a rigid frame to which your bike is secured with the axles. This assembly keeps the bike from moving around while protecting it from external forces. The wheels sandwich the frame, providing additional protection.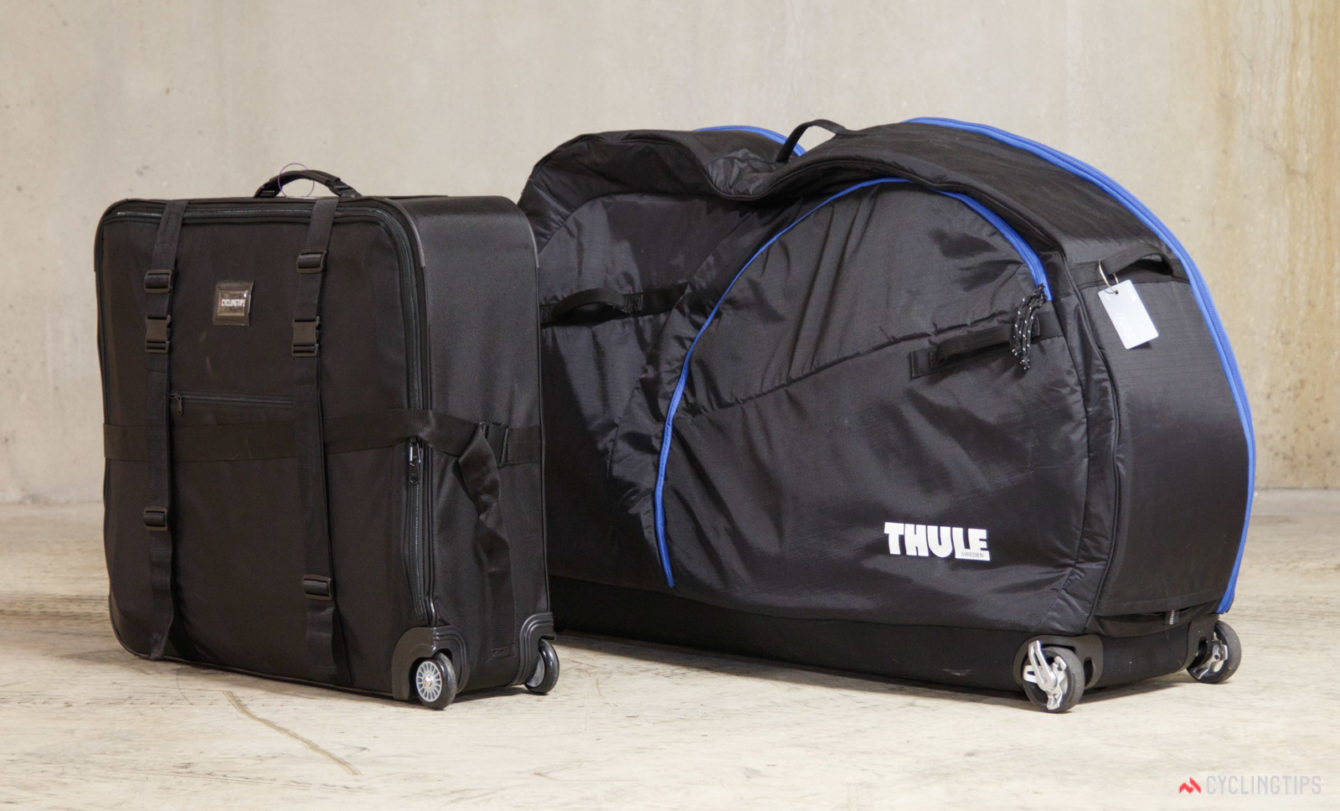 Disassembling the bike
To fit a bike into a travel case, it will have to be somewhat disassembled. You will have to release air from the tires and detach the pedals, wheels, handlebars, and possibly the derailleur. If your bike has disc brakes, install pad spacers to prevent the calipers from closing and sticking the pads together. All of these operations are quite simple, but require a bit of practice to finesse. Make sure to bring a pump (even if it's a compact one) because CO2 cartridges are not allowed to travel by air.
Packing a bike case
It's not hard for bikes to become damaged in transport, so when packing your bike case, pay extra attention to how everything is secured so that not one part is loose. And remember that you aren't the only one who will be handling your bike case—TSA agents will be, too.
Do not overload the bike case with gear. Expect that your bike case will be opened and its contents inspected by the TSA. A bike placed in a well-organized bike bag is easier to inspect, increasing the chance of everything staying in the bag. If the bag is jam-packed with gear so that the bike cannot be easily viewed, the agent will have to remove the items and will most likely shove them back into the bag as they see fit. Always place a notice on the cassette that asks TSA luggage inspectors to ensure that the wheel with the cassette is not replaced in the carrier facing the frame. A "This Side Out" notice taped to the cassette can save your bike from nasty frame scratches.
It's not that you can't assemble your bike with a tiny multitool, but it doesn't really make sense when a full-sized set of hex wrenches can speed up the process significantly. If your bike has carbon parts, it might be more practical to bring a torque wrench instead. To avoid a frantic dash from one bike shop to the next, pack a few spare parts, including a tire, a spare tube, a chain, a set of brake pads, and a spare derailleur hanger.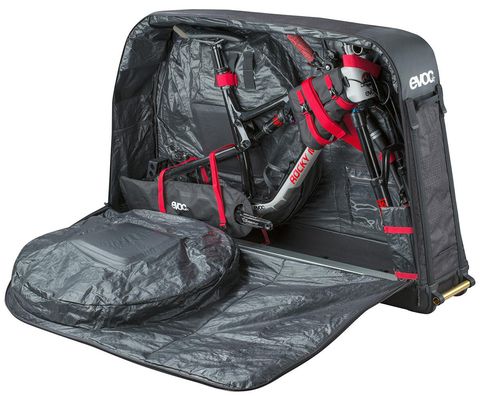 Checking in the bike and observing the inspection
Why the TSA needs to inspect your bike luggage is known only to the TSA, but it's always better to be safe than sorry, so offering them some guidance when handling your bag is recommended. In many airports, you have an option to observe the bike inspection. You may be invited, but you may find that you have to ask for it. If you have this option, do not pass it up; you may be able to assist with repacking the bike, which will be especially valuable if you run into a particularly clumsy agent. Sometimes, you might even have some explaining to do. A triathlete once had to explain that his aero wheels labelled "Zipp Speed Weaponry" on the side were actually not weapons.
Airline-related damage
Most airlines allow a two-hour window to report any bike damage and have recently started requiring a release of liability waiver, limiting the payout to $500. Inspecting your bike at the arrival airport might seem inconvenient, but is also paramount if you want a chance at recovering any losses. It's highly recommended that you take the time necessary to conduct a thorough inspection.
Other than being damaged in transit, the next worst thing that can happen to your bike is it not arriving at all. Your bike passes through many hands and machines, often performed by third-party logistics contractors. Considering the complexity and speed at which this process runs, it's not unusual for a bike to be absent from the luggage carousel. Your bike might be traveling on the next flight, stuck at another airport, or could even be truly lost. Before you panic, bring your receipt to the airline's baggage office and see if they can track it down.
Pro tip: A GPS tracker installed in your bike carrier might be a worthwhile investment if you travel with your bike often. Bike owners with GPS trackers have had great luck recovering their bikes from the abyss of airport sorting facilities.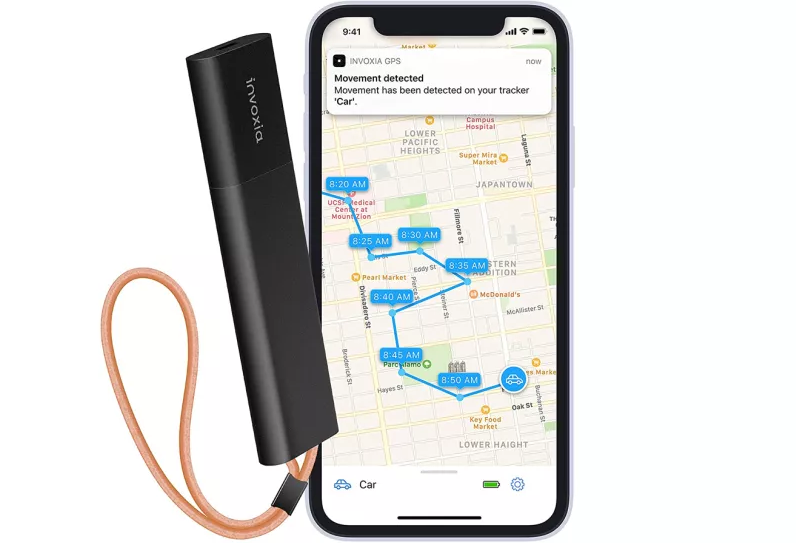 Reassemble the bike
Once you've reached your ultimate destination, it's time to reassemble the bike. Many mistakes, such as under or over tightening bolts, happen at this stage. Just like disassembly, reassembly requires practice, which is best acquired at home. Doing a couple of trial runs of disassembling, packing, unpacking, and reassembling your bike with the travel tools might help you build more efficiency and confidence, even if you're not mechanically inclined.
Road traveling with your bike is certainly a simpler process than having to contend with airport staff and protocol, but it still comes with its own considerations. There are many ways to transport your bike on or in a car, each with a different set of benefits and challenges.
Inside the car
If you have the space inside your vehicle to fit a bike, it might be the easiest and most reliable way to transport it. A bike carried within a car does not carry the aerodynamic penalties of roof or tail hitch racks, provides adequate security, and best of all, is free. Depending on the size of your vehicle, you may need to remove the front or both wheels. With both wheels removed, most bikes will fit in the trunk of a mid-sized sedan and all SUVs. Make sure to use some blankets to pad the components to prevent them from moving around and staining your car's interior or trunk.
If an overnight stay is on the agenda, do not leave your bike in the car. Hotel parking lots are of particular concern because they are hot spots for thieves; a car with a bike inside is likely to become a target. If leaving a bike in a car is unavoidable, it should be left inside the only place a thief can't see it—the trunk.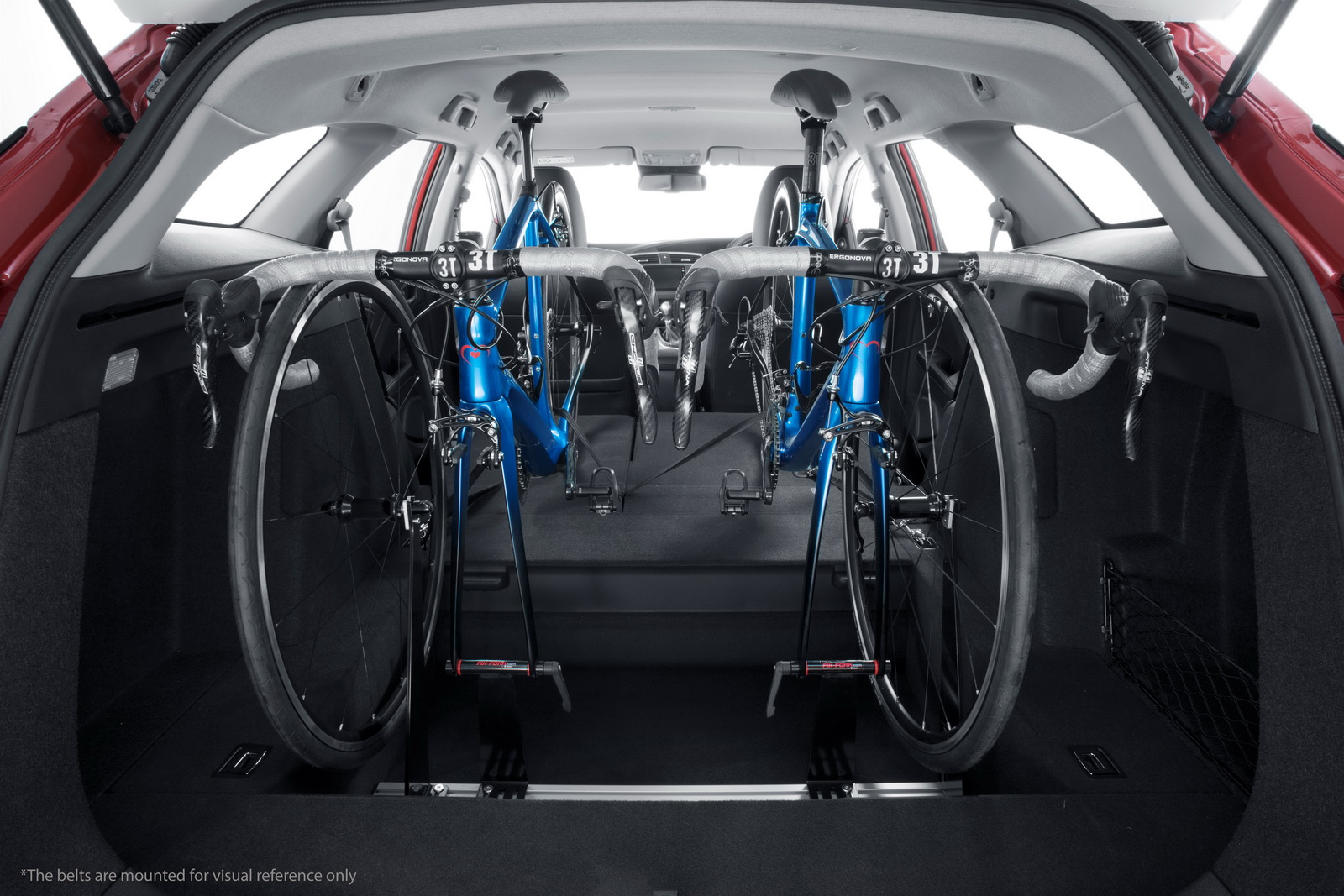 Roof racks
Roof racks are quite popular with sedan owners due to a few key advantages: they don't alter the vehicle's already low departure angle, don't catch on curbs, and are relatively easy to load and unload. All roof racks are designed to carry one bike each, and the majority of cars can accommodate two racks on the roof.
Bikes transported on roof racks are subjected to strong forces, so it's important to perform regular bolt checks to make sure the rack is securely attached to the car. Check all attachment points before each trip to avoid losing your rack and bikes at freeway speeds. It's also a good idea to place a note on your rearview mirror reminding you that there are bikes up top and warning you to avoid low overhead areas like drive-throughs and low parking garages.
The most notable shortcomings of roof racks are: diminished fuel efficiency of the car (expect to lose 1-5 MPG), exposure of bicycles to road debris at high speed, the risk of damaging the bike in a low garage, and excessive wind noise at highway speeds. Loading and unloading bikes from a roof of an SUV is quite challenging and most often a two-man job.
If you're leaving your bike unattended (even if it's just to run in and out of a coffee shop), make sure it's secured to the rack. Many roof top racks come with built-in locks, but it doesn't hurt to add an additional heavy-duty lock to discourage a would-be thief from even trying. Under no circumstances should you leave your bike on the roof of the car overnight.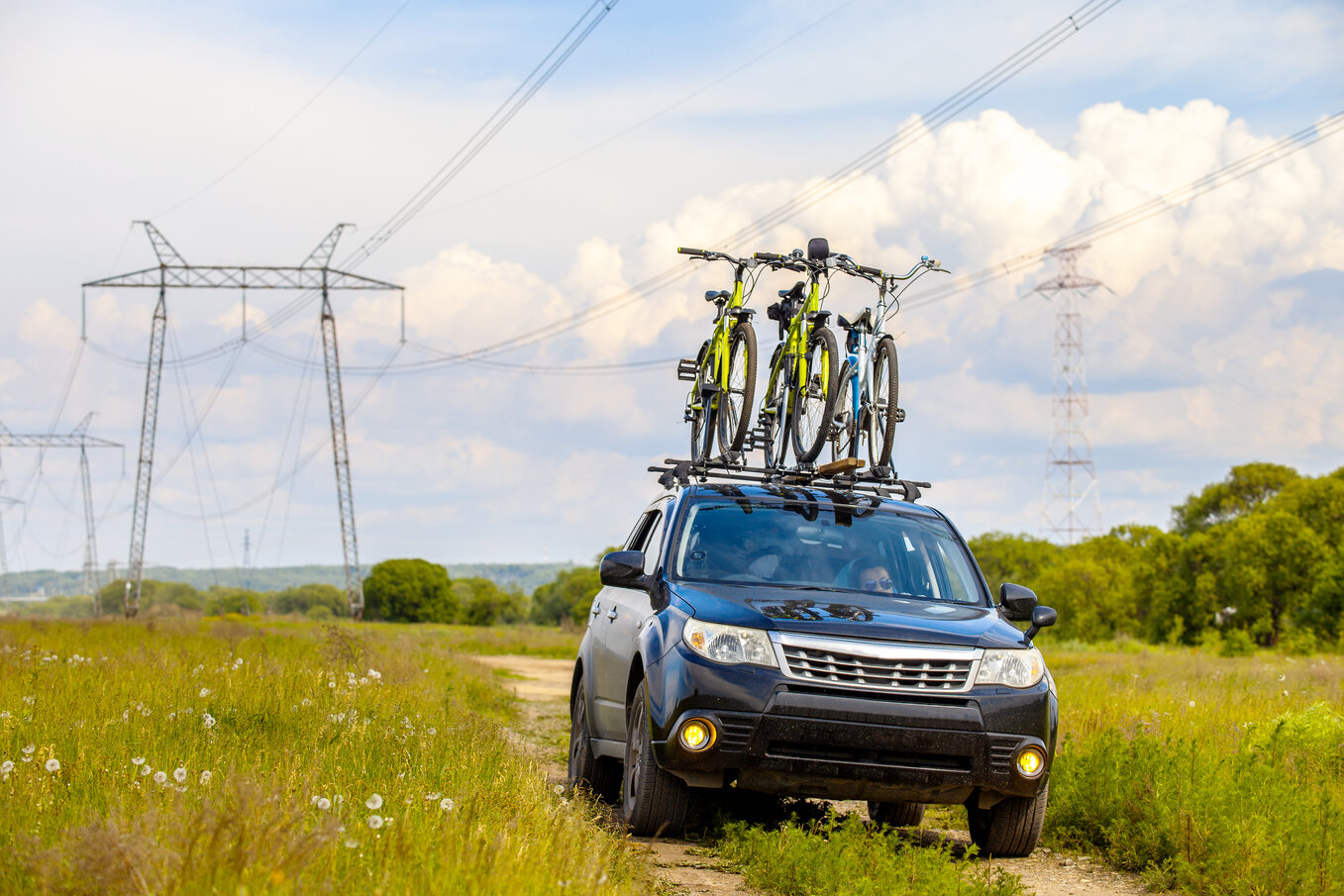 Hitch racks
Hitch racks tend to be most popular with SUV owners because the height of the vehicle allows the rack to clear even the highest of curbs, makes loading and unloading bikes a breeze, and protects them from road debris. Hitch racks are designed to easily move out of the way to allow access to the trunk—even when loaded with bikes! Most tail hitch bike racks are designed to carry two bikes, but some can be extended to carry four or six.
Despite a hitch rack's simple design and popularity, there are still some precautions that should be taken. First and foremost, always double-check that the rack is properly secured to the car and the bikes are properly secured to the rack. The vast majority of rack mishaps result from operator error, so a second look that takes only a moment of your time can prevent a lot of grief. Beware that a bike rack extends your vehicle's overall length by over three feet, some models by as many as five. Pay particular attention when maneuvering in tight parking lots, during hard braking, and when merging and passing—especially in heavy traffic.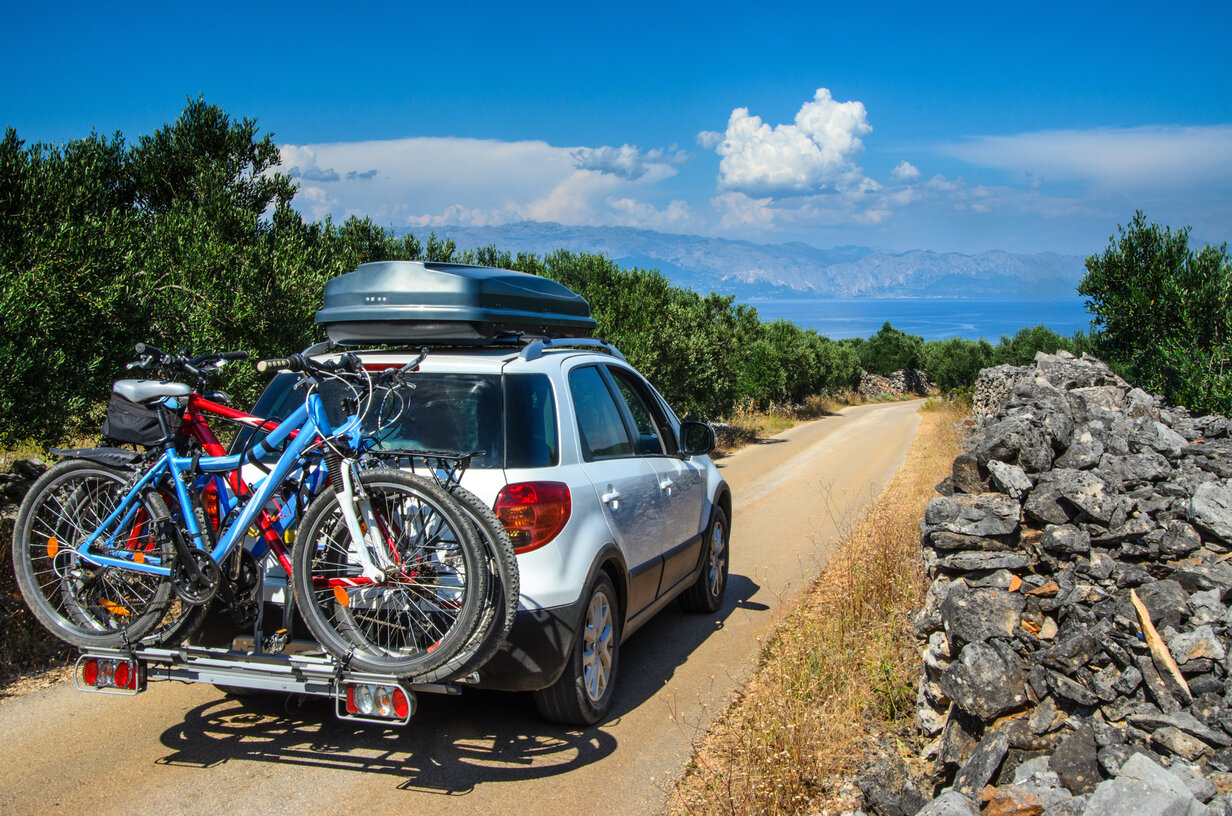 Pickup trucks
Pickup trucks make very versatile bike carriers. From in-bed racks to side clamps and of course the popular tailgate method, whichever method you go with, always be sure that everything within the bed is secure. When transporting bikes in a pickup bed, especially if the bike's front wheel is hanging off the tailgate, place a strap over each bike to ensure that it cannot slide around during vehicle movement. Tailgate pads are commonly available and are always a good idea because they protect both the bike and the vehicle from incurring unnecessary scrapes and scratches.
Just like with roof top and hitch racks, be sure to secure the bike to the truck with a heavy-duty chain when leaving it unattended. Bikes hanging over tailgates make particularly attractive theft targets because they become a simple "grab and dash" job.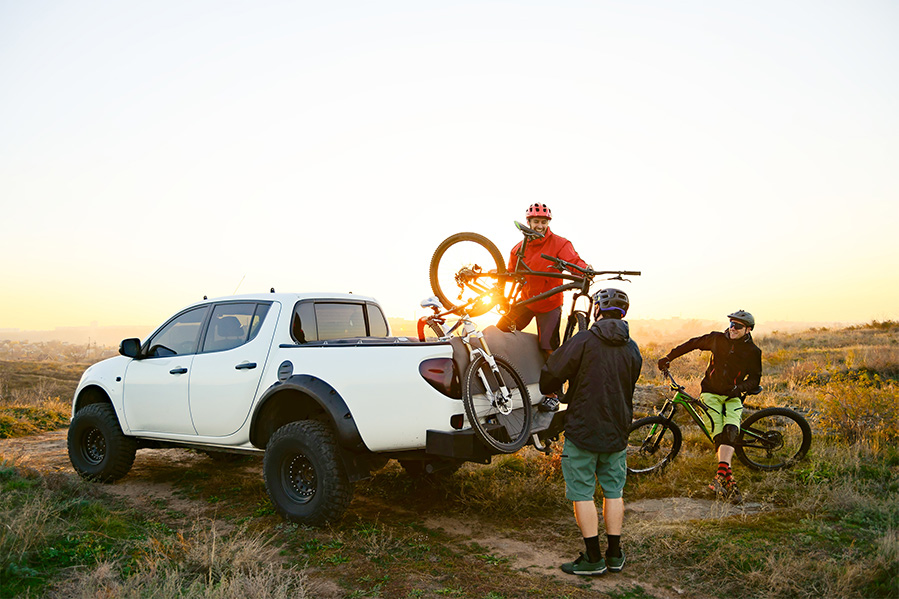 Strap-mounted racks
Unless you rarely transport your bike by car, racks that attach to your car's trunk with straps should be seen as last resort solutions. These racks rest against the bodywork of a car with multiple feet and are further secured by hooks that slide into door and trunk jambs and grab onto the sheet metal. Once the bike is placed on the rack, the tension on the straps needs to be adjusted to ensure a stable assembly. While many of these racks are touted as capable of carrying two and even three bikes, the sheet metal on your car could be a different story.
Recent advances in automotive manufacturing, specifically improvements in the unibody and crumple zone designs, allow manufacturers to use much thinner sheet metal for the car bodies without sacrificing safety and reliability. Unfortunately, as sheet metal gets thinner, strap-mounted racks continue to rely on door jambs as anchor points. Even when installed in accordance with manufacturer's recommendations, these racks tend to flex and slide around, making rack-induced paint scuffs on your car inevitable. One final thing to be aware of: the vibrations will amplify the forces exerted by the rack on the body of the car and could result in a complete failure, making them completely unfit for any sort of off-road driving. If you're shopping for a bike rack, it's highly recommended you pass on this design.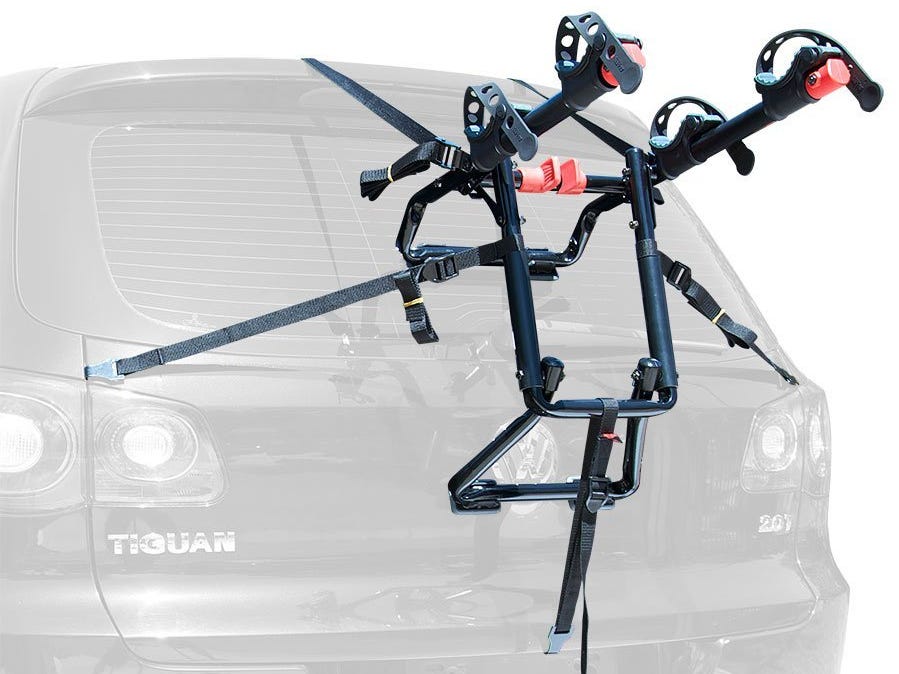 Opting to ship your bike to your destination is a great way to avoid the hassles associated with airline travel. While you can ship your bike with a conventional shipping provider like FedEx or UPS, it's worth looking into specialty bike shipping companies like ShipBikes and BikeFlights. These companies partner with UPS and FedEx and leverage the economies of scale to get you better pricing.
If you do not have a bike box, both of these companies can ship a custom-designed sturdy cardboard case to your home. They also streamline the customs paperwork for international travel and provide several optional services, such as GPS tracking and high-priority handling.
If you choose to ship your bike, take the shipping time and possible delays into consideration and make sure there's a party at the destination willing and capable of receiving your bike and storing it until you arrive. While most hotels have no problem receiving and holding a package, most Airbnb hosts do. If this is the case, you can request that the shipping provider (FedEx or UPS) hold it at their office or distribution center for you to pick up. This option is often free for up to 5 days and costs a few bucks for every day thereafter. Make sure to ship your bike to a location that's open during the hours convenient to you.
Pro-tip: If you're hoping to avoid paying for a box, consider using a TV box (or printing out a picture of a TV set and gluing it onto your box) as an alternative. Shipping companies do not like paying out claims on damaged electronics and tend to treat them with greater care. One major bicycle manufacturer started shipping their bikes in boxes that displayed a bicycle on a TV screen which resulted in a significant drop in shipping damage. At the very least, "do not double stack" stickers should be liberally applied to all sides of the box.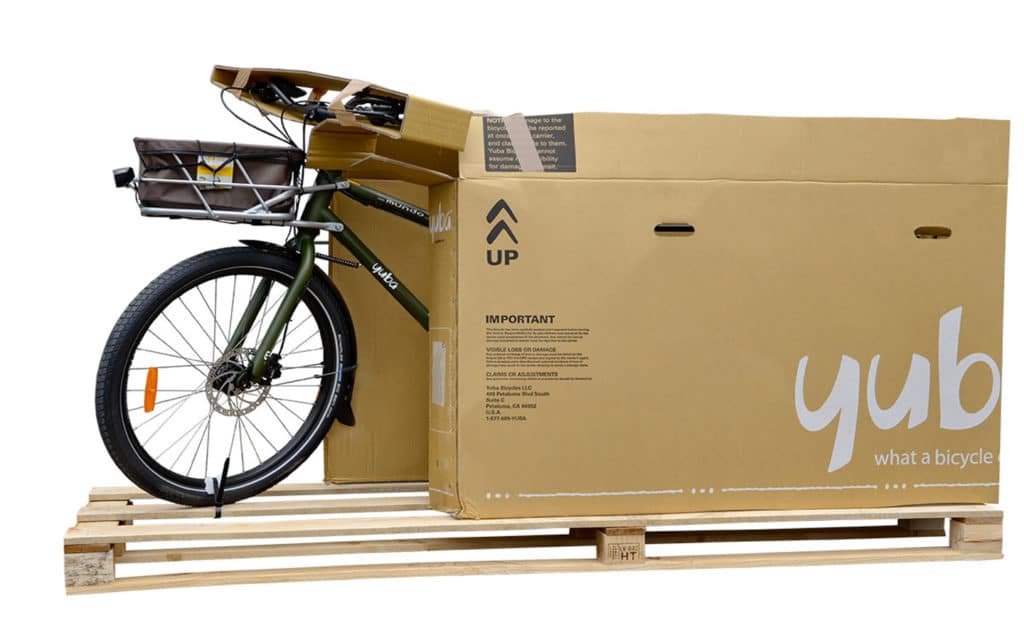 With most busses, trolleys, and commuter trains now accommodating cyclists, bicycle commuters often find themselves taking public transportation to cover a leg of their travel. Depending on where you live in the US, the public transportation network will range from mediocre to extensive and well-maintained. Being able to bring a bicycle along to fill in the gaps and last-mile hurdles can cut significant time off your commute and spice it up in the process. While the cycling infrastructure in most bicycle-friendly US cities is still lagging behind those of Amsterdam and Copenhagen, there's no doubt that North America is going through a bicycle commuting renaissance and it's not too late to join the movement.
The most common way for bikes to be carried on a public bus is on a rack that is affixed to the front, providing a clear view to the driver. Be aware that the bus driver is not responsible for the safekeeping of bikes and locking a bike to the bus' bike rack is almost always prohibited. With no security system in place, a prime opportunity for bike theft is created; it's not hard for someone to simply grab the bike off the rack and ride away. One way to mitigate the risk of theft is to ensure that the bike's back wheel is immobilized with a lock before lifting the bike onto the bus rack. By immobilizing the wheel, the bike becomes impossible for a thief to pedal away.
Most trolleys, rail systems and intercity trains have their bike racks inside the passenger compartment, making it easy to lock it up. A lightweight lock should be sufficient to prevent someone from grabbing your bike right before the doors shut.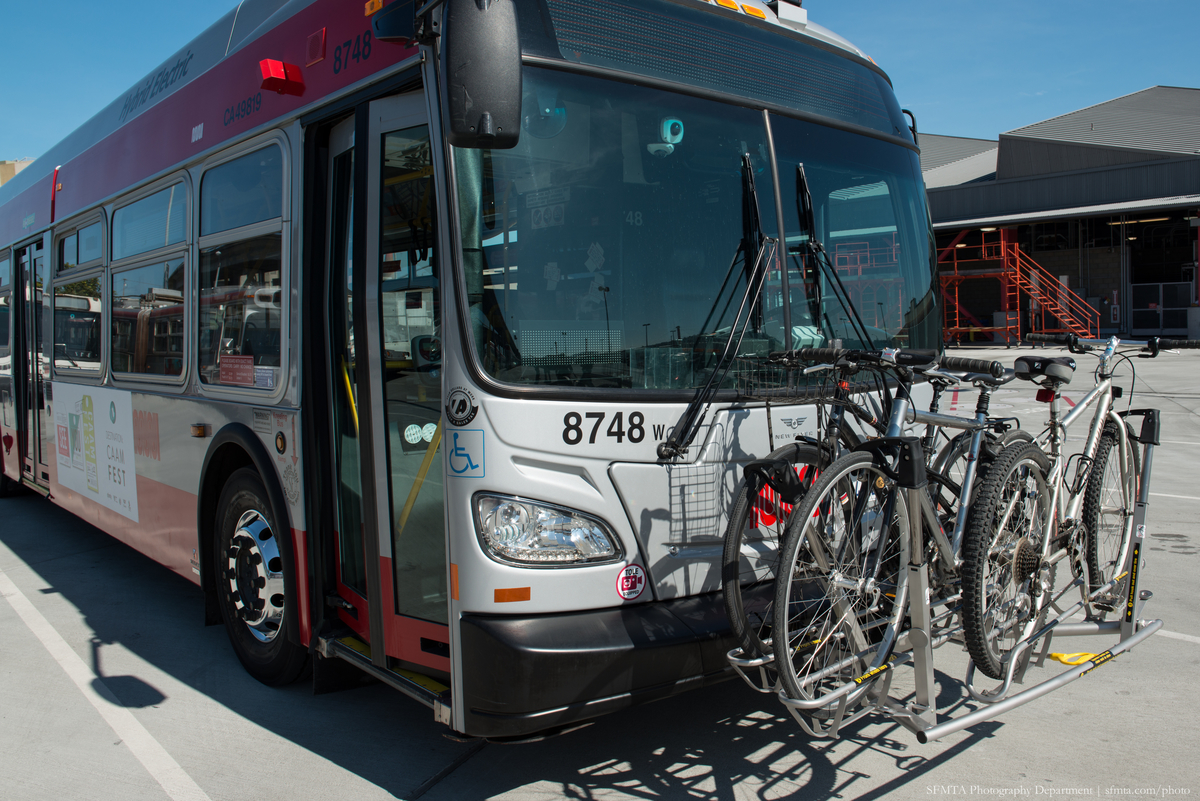 The most extreme way of traveling long distances with a bike is by pedaling it there. Bike packing and bike touring might not be for everyone, but for those who just can't ride enough, it's the perfect way to travel. Traveling by bike means that you'll be limited to bringing only what can fit on you and your bike. Expect to load up with your personal items and camping gear, and be sure to devise a method to protect your possessions against damage and theft. If you must leave your bike unattended, only do so after it's been locked to an immovable object with a heavy-duty lock—a cable lock will not save your bike.
To learn more about bike touring, please check out our article Bike touring -- what is it and how do I get started?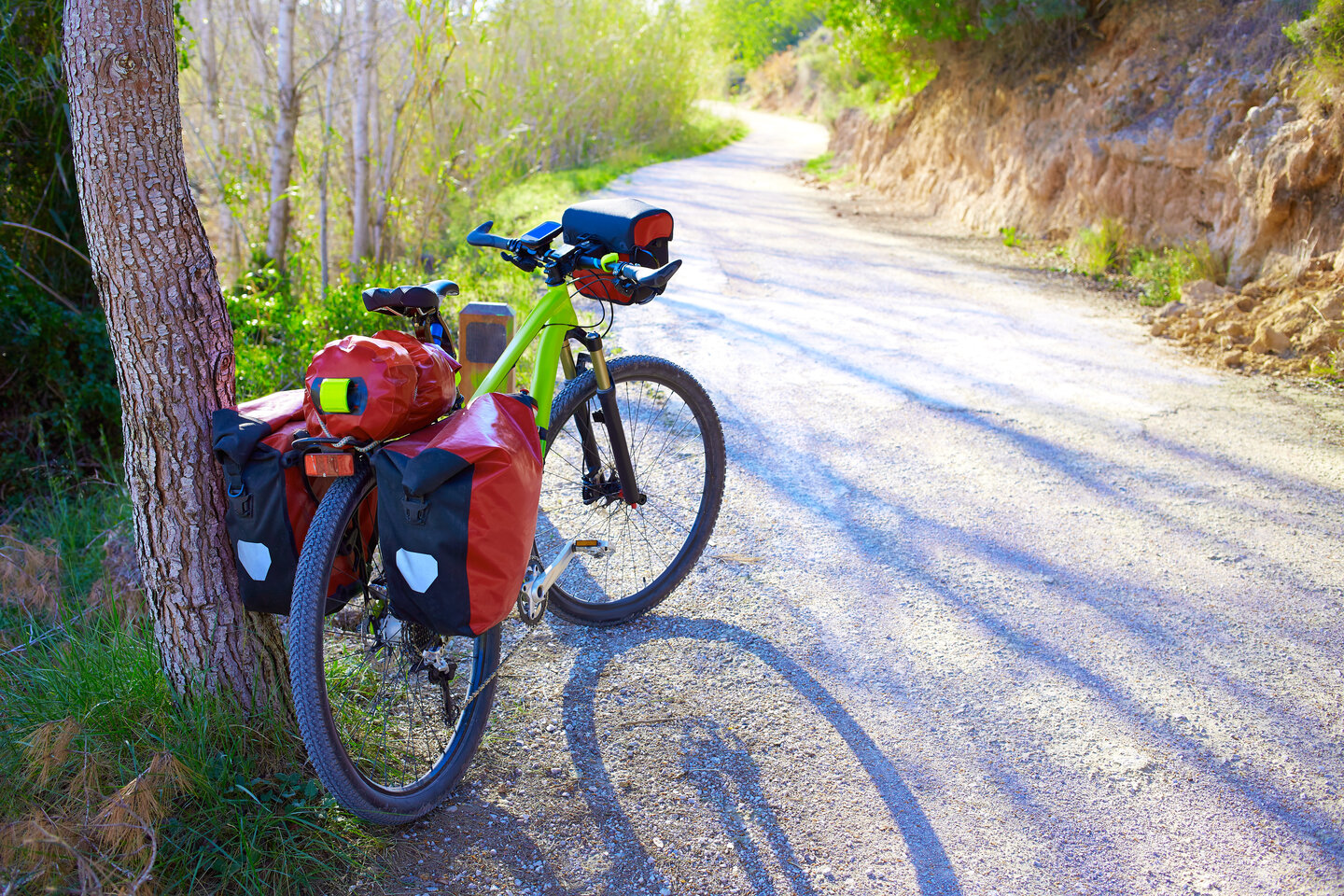 When traveling with a bike, the biggest risk and fear is to end up at your destination without one, so you must remain vigilant in protecting it against theft or damage. Whether you roll it into a hotel room for an overnight stay, lock up the wheel before placing it on a public transport rack, or simply lock it overnight with a heavy-duty lock, just do it. An attitude of acceptance that it's worth investing those extra few minutes into caring for your bike is what separates cyclists from future pedestrians.
Lock it up
Whenever possible, avoid leaving your bike and vehicle unattended — even if it's "just for a minute." If leaving it unattended is unavoidable, then always make sure your bike is locked to the vehicle or the rack. Many tow hitch bike racks come equipped with cable locks that are easily cut in seconds with battery-powered tools. Even some of the beefier cable locks available for purchase are still no match for a diamond blade battery-powered grinder. Avoid leaving your bike locked to or inside of a vehicle overnight, but if you have no other option, be sure that it's hidden in the trunk.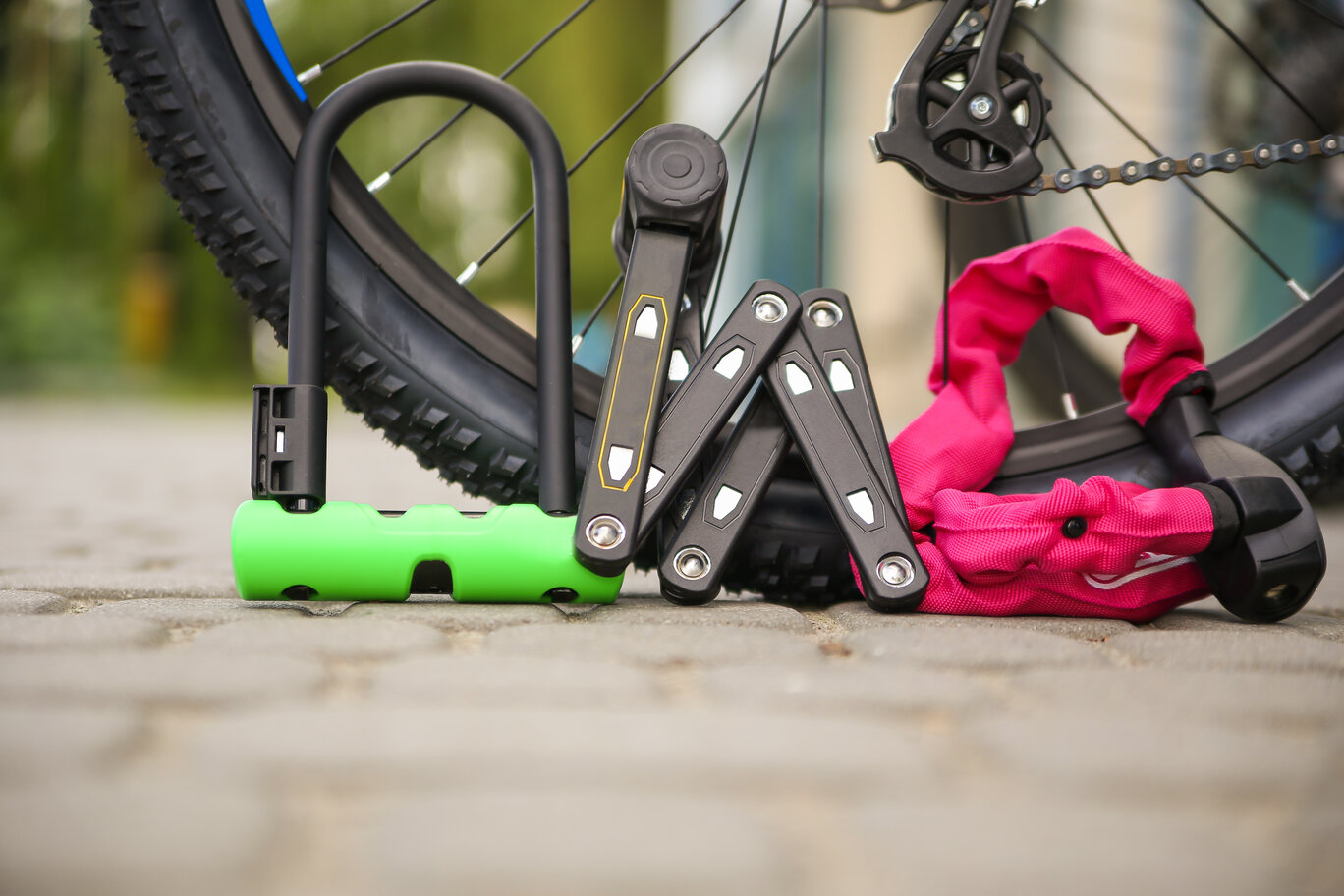 If the device used to secure your bike is inadequate, it's almost pointless to lock it up at all. When placed in a good cutting position, chain links with diameters less than 10 mm (are cut easily with medium sized bolt cutters. While more difficult, it's still possible for links with a diameter between 10 and 12 mm to be cut by medium size bolt cutters—all it requires is a thief with experience and good leverage on the chain. When purchasing a chain lock, always go with one that is at least 13 mm. Chain links with diameters between 13 and 15 mm can only be defeated by the biggest 40+ inch bolt cutters, a tool most bike thieves do not carry. Chains with a link diameter at 16mm or above cannot be cut by even the biggest bolt cutters, making them your best bet against theft.
Insure it
Bicycle insurance is a simple way to ensure you always have a backup plan for those times when you've out of ideas and options. Velosurance offers coverage for bicycles kept at a USA address and covers the bicycle for travel throughout the USA and Canada. The policy coverage can be extended worldwide with a purchase of optional coverage. Standard coverage includes theft, loss, or damage while the bicycle is in transit by air or road as well as crash damage and theft at home and away from home. An instant quote can be gotten in two minutes and policies are issued the same business day. Even if you don't think you'll need it, you'll be glad you have it if anything does happen to your bike.
What to do if disaster strikes
If despite your best efforts you find yourself at your destination without a bike, you can still salvage your vacation. Your best bet is to immediately start calling local bike shops until you find one that has a rental bike in your size. Do not shy away from big retailers such as REI, Scheels, and Dick's Sporting Goods; the recent improvement in their bicycle departments and sizable rental fleets have not gone unnoticed. If a rental is not in the cards, consider reaching out on social media to local bicycle groups. It might be a desperate move, but it has been known to work. At worst, you'll still be without a ride, but you also might end up with a bike and make new friends along the way.