These days everyone has the same idea: get outside and exercise! While it might be as simple as hopping onto the saddle for some, many have to commute to local parks or trails, which requires bike transport. Whether you have a sedan, SUV, or truck, finding a reliable method of transport is key in ensuring your bike arrives at your destination safely. The market caters well to sedan and SUV owners with a variety of racks, but if you own a pickup truck, transporting your bike safely and keeping it secure could be tricky. Since pickup trucks are specifically designed to carry cargo, it's easy to make the assumption that they'd be perfect for carrying bikes, but this isn't necessarily the case, at least not without the help of a sturdy, well-designed rack; you can't simply toss a bike into the bed and expect it to arrive unharmed.
There are many ways to carry bikes in a truck, each with their own benefits and drawbacks. We'll review all of them to help you choose the option that will best meet your needs and requirements.
Tow hitch bike racks are very popular with sedan and SUV owners because they do an adequate job of securing a bike, while making it easy to load and unload. Many of the latest models include built-in cable locks and a pivot to allow easy trunk access. These racks also have a number of disadvantages: they tend to scrape on curbs and driveways, extend the overall vehicle length by up to 4 feet, and have a limited carrying capacity, making them a poor choice for transporting multiple heavier bikes, such as downhill rigs or e-bikes.
Since nearly every truck is equipped with a tow hitch, getting a tow hitch rack might seem like a logical choice. And while scraping on driveways and curbs is unlikely to happen in a truck, the combined vehicle length might become a real concern. Trucks have gotten notably bigger in recent years – even the smallest of newer trucks is similar in size to a mid-size or even large SUV. Once you add a bike rack, maneuverability in tight spaces will be affected and a simple task of parking will become challenging.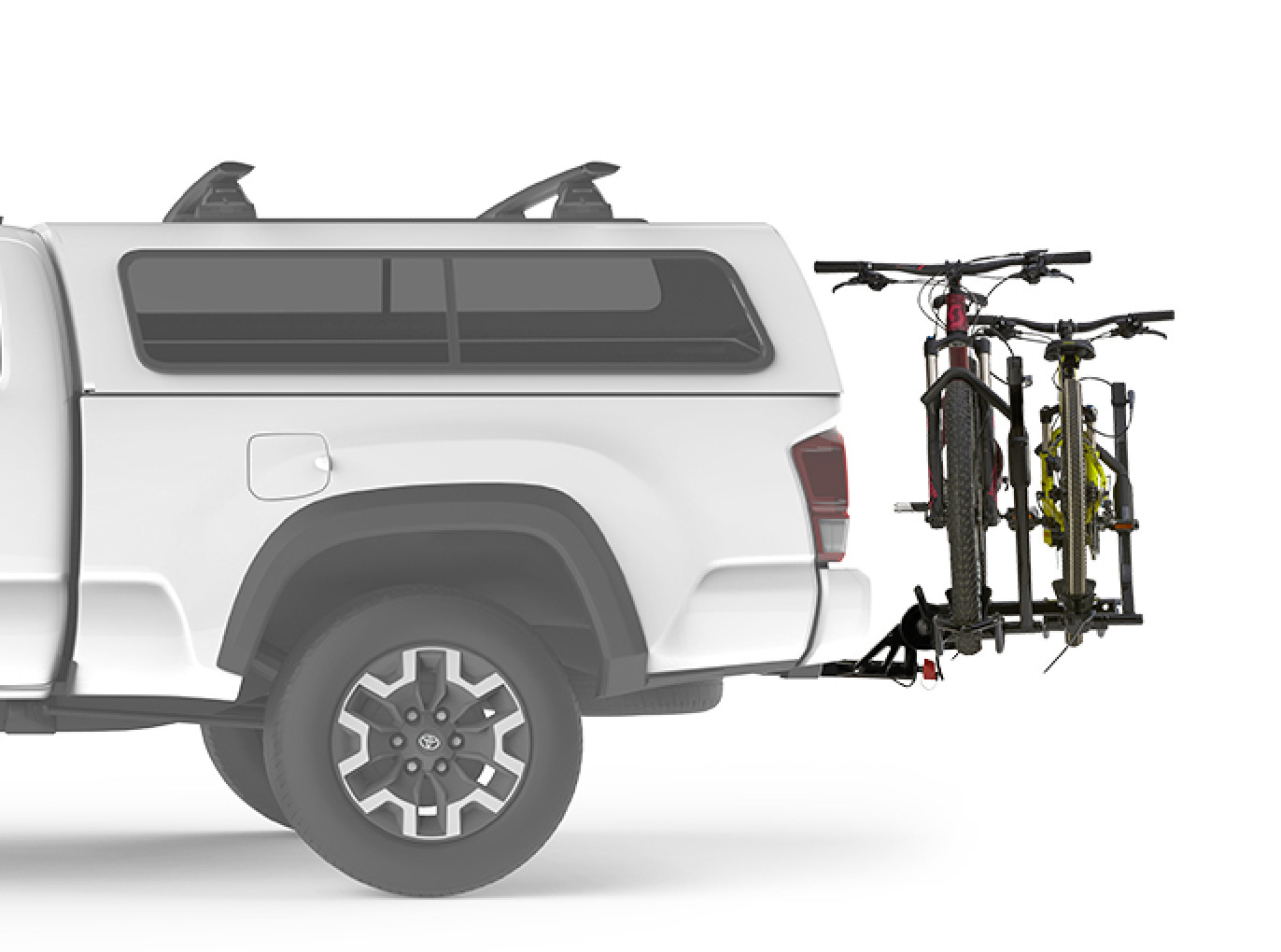 Finally, if you get rear-ended, your bike is likely to get damaged. If you're considering a tow hitch rack for your truck but haven't purchased one yet, keep reading; you'll likely discover that there are better options out there.
Pros: easy to load and unload, reasonably secure.
Cons: extends vehicle dimensions, makes bike vulnerable to rear-end accidents.
Rooftop racks are the second most popular way of carrying a bike on a sedan or an SUV. As the name implies, these racks are designed to carry the bikes on the roof of the car. While this method solves the issue of the vehicle length and trunk accessibility, it introduces a myriad of others. Rooftop racks attach to cross-bars which you must purchase if you don't already have them. Loading a bike into a roof rack of a low-roof sedan requires a certain amount of strength and agility, doing so on a roof of a truck is significantly harder, especially if it's a heavy bike. Bikes on roof racks create a notable amount of aerodynamic drag, which translates into diminished fuel economy, and are also exposed to road debris, which often results in paint chips and even cracked carbon forks. Navigating multi-level parking garages will become a challenge as you'll be running a risk of destroying your bike and causing serious damage to your truck if you forget that your vehicle is now at least five feet taller. Even when not loaded, rooftop bike racks still generate drag and wind noise.
With all the negatives, why would a truck owner consider a roof rack? The answer is simple: it does not extend the vehicle's horizontal dimensions and allows for the bed of the truck to be used to haul something else. If your truck is also your work vehicle, this is a solid option to keep your bike away from your cargo during the day and hit the road or trail before or after work. This option is also popular with adventurers who pack the beds of their trucks with gear and even mount a "rooftop" tent above the bed using a bed rack.
Pros: makes the bike harder to steal, keeps the truck bed available for cargo.
Cons: hard to load and unload, diminished fuel economy, wind noise, risk of bike damage in a low-ceiling parking garage.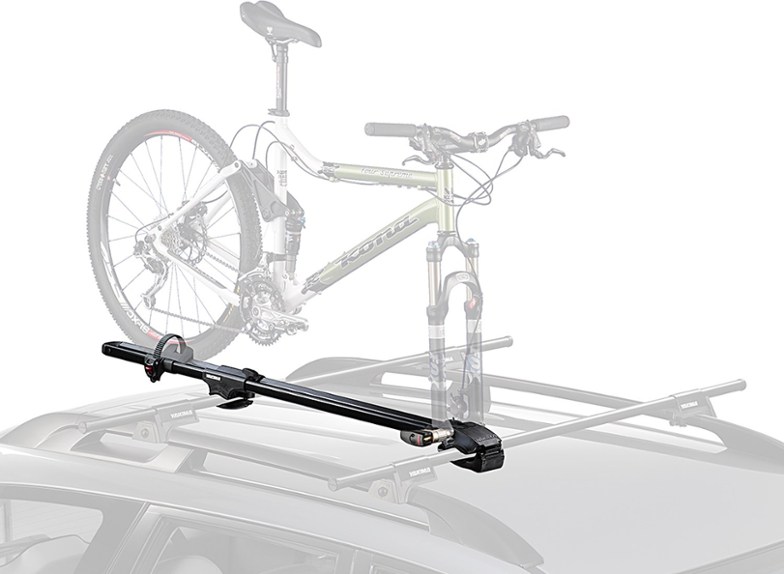 These racks are designed to let you easily, safely and securely transport bikes in the bed of your truck. Some of these are easily installed and removed while others are more of a permanent fixture. Truck bed racks offer the greatest amount of security, safety, and protection when it comes to transporting a bike.
When comparing truck bed racks to hitch racks, it quickly becomes obvious that bed racks offer more security than hitch racks in two major ways: physical and mental. The protection offered by the walls of the truck bed and a sturdy standing surface enhances overall security in a few big ways: it deters thieves, reduces the likelihood of bike damage during transport or when parked, and decreases the chance of cosmetic damage by road debris. The simple fact that your bike is kept within the bed of your truck is a theft deterrent in itself, because it makes it harder to see, access, and therefore, steal. Some bike racks come with security features that make it even more difficult for potential thieves to successfully swipe your bike. In addition to being a theft deterrent, a truck bed rack can also bring you the peace of mind of knowing that your bike is as physically secure as possible.
The more physically secure your bike is, the greater the overall safety of you, your passengers, and everyone on the road is. It is less likely to come loose on the road, which reduces the chances of it hitting your back window, another vehicle, a pedestrian, or even someone out for a bike ride.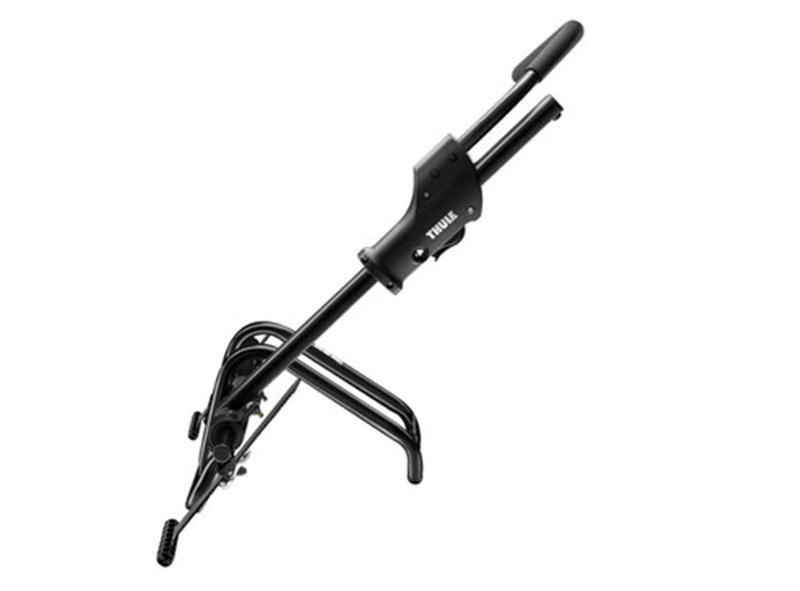 Since the bike is surrounded by the walls of the truck bed, there's an automatic advantage of physical protection from road debris and impact-related damages. The bed offers protection against premature paint chips, scratches, and dings that can occur during transport on a hitch rack and from immediate total bike loss in the event of being rear-ended on your way to the park.
Because everyone has different needs and requirements, there's a variety of truck bed racks on the market. Before deciding which is your best option, learn about the pros and cons of each to ensure there aren't any hidden deal breakers.
Fork mounted
How they work: The front fork is secured in the truck bed, which requires the removal of the front tire prior to hitting the road.
Benefits: Because bikes cannot move around during transport, the chances of damage to your bike is reduced. Fork mounted racks also decrease the likelihood of bicycle theft because its design makes it harder for thieves to simply grab and go.
Keep in mind: Whether kept inside the cab or in the bed, after removing the front wheel, it will need to be stored somewhere in the truck. Fork mounts are axle-specific, if you ever need to transport your friend's bike, it simply might not fit.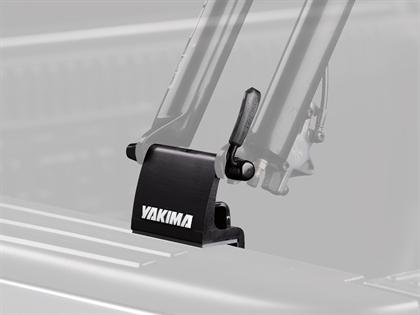 Wheel mount AKA roll-on mounts
How they work: Similar to tow hitch racks, the bike's front tire is fastened to the truck bed and doesn't require bicycle disassembly.
Benefits: One of the easiest racks to use, simply roll the tire into place and secure the clamp around the sides. The locking mechanisms are designed to keep the bike stable and secure.
Keep in mind: The primary drawback to wheel mount racks is that they run on the larger side; if you need to remove it from the truck bed and are short on garage space, then wheel mounts might not be your best option.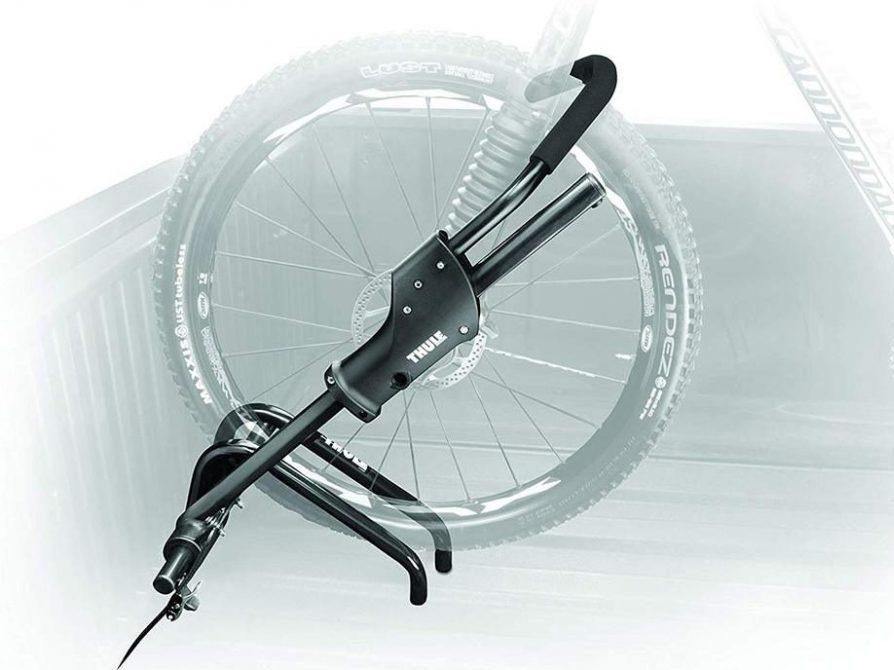 Side clamp design
How they work: Side clamp racks install onto the bed side rails and utilize ratchet holders to secure the bike in place. Most models have built-in D-rings for cable or chain lock tie-down points.
Benefits: The side clamp design boasts a surprisingly impressive set of advantages. It's the most compact of bed rack options, which makes it exceptionally portable and eliminates the storage issues that other racks may pose. In addition to holding bikes, side clamp racks can be used to secure all kinds of bulky items in your truck bed. The easy to install design and the fact that you don't have to climb into the truck bed to lock your bike in place are both convenient and time-saving.
Keep in mind: You will need one clamp rack (composed of two clamps) to carry one bike. Due to the nature of its design, only two clamp racks can be installed into a single bed, thus limiting your truck's carrying capacity to 2 bikes.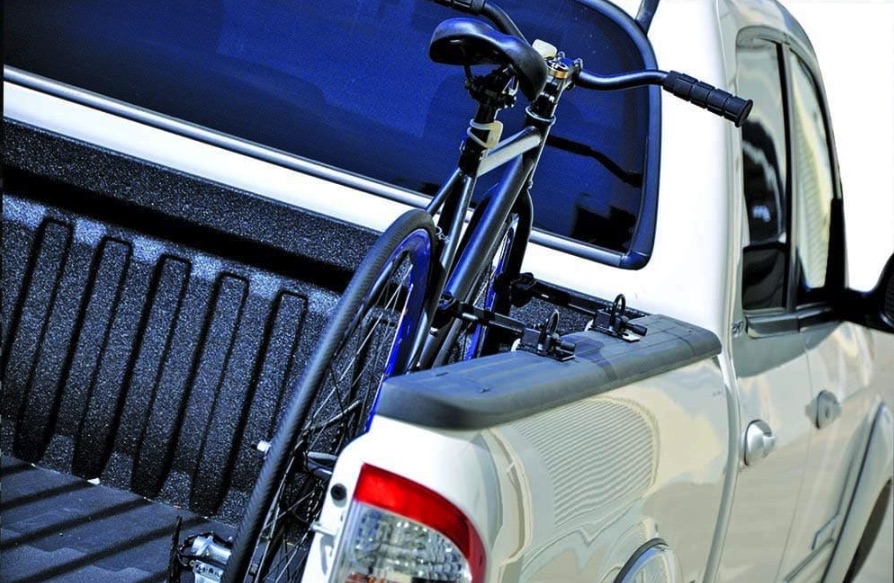 Rail mounts
How they work: The rail mounts run along the entire distance of your truck bed and often incorporate a fork mount for stability.
Benefits: Like the side clamp design, rail mounts offer quite a few benefits. The small size means they won't take up much storage space. The design of rail mounts makes them compatible with almost any bed size and can easily accommodate many bikes. Installation is easy and requires no drilling.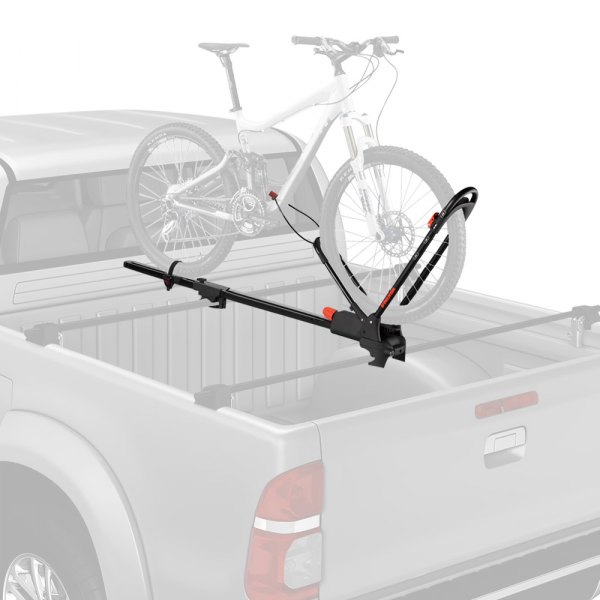 Keep in mind: If the rail mount rack in question secures your bike with the use of a fork mount, then the front wheel will have to be removed and stored within the vehicle. As mentioned earlier, when storage is an issue, it's best to avoid rack designs that require component storage during transport or that are larger in size.
Pros: secure, offer excellent protection.
Cons: fork-mount ones are fussy, some require permanent installation.
A tailgate pad is a simple and affordable device that allows you to "throw" a bike over the tailgate of the truck without scratching the paint of the truck or the bike. The bike's front wheel and fork are situated outside the tailgate, resting on the top tube. Because the padding is a thick resilient foam, both the bike and truck are well guarded, but bumpers and additional straps can offer even further protection from shifting or bumping into other bikes.
The mere simplicity of their design makes tailgate pads a breeze to use and a popular option among cyclists. Mountain bikers often opt for tailgate pads because they address numerous challenges associated with hitch and rooftop rack; larger tires, longer frames, and full suspension features of mountain bikes can jeopardize the carrying stability of many traditional bike racks, but pose no issue when using the pad. Another benefit of the pad is that a greater number of bikes can be accomodated, so it's not uncommon to see six bikes hanging over a tailgate. The ease with which one can secure a bike on a pad compared to the effort required to secure it onto a bike rack makes it an especially appealing option for those who relish in the excitement of a gravity shuttle run. And if you're on a budget, you'll be happy to hear that tailgate pads are also less expensive than most racks.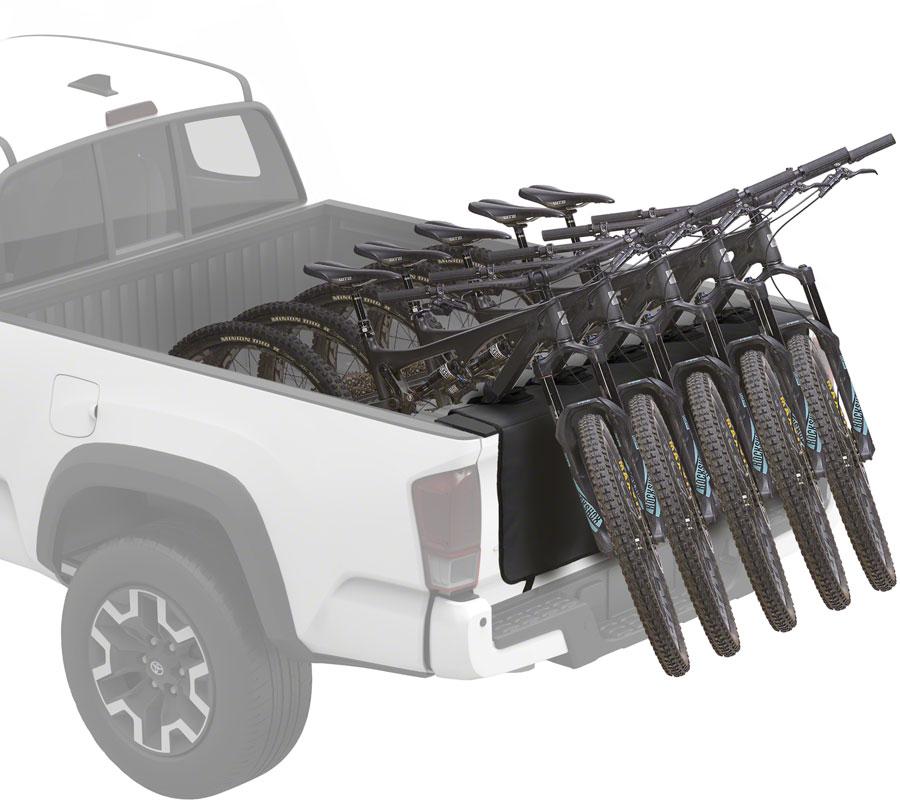 Beware that tailgate pads provide no security against theft. If you plan on leaving your bike hanging over the tailgate of your truck while unattended, make sure to take precautionary measures to secure your bike to a mounting point in the bed of the truck; a cable lock or preferably a chain should do the job.
Even the pads equipped with bumper stops and straps do not perfectly secure your bike to the truck, so some minor moving around and rubbing should be expected. When carrying multiple bikes side-by-side, there's always a chance that they might come in contact with and scratch each other. If you prefer your bike to remain in perfect cosmetic condition, a tailgate pad is probably not for you.
Pros: affordable, quick loading and unloading, can carry many bikes.
Cons: no built-in security, might cause cosmetic damage.
There are also some DIY rack alternatives, such as the basic PVC pipe rack. With a few hours of work and less than 30 dollars, a simple, sturdy rack can be made. Plenty of tutorials on Youtube offer step-by-step instructions to help you make your own PVC masterpiece.
https://www.instructables.com/id/Truckbed-Bike-Rack/
Before settling on a bike rack for your truck, be sure that it really is the "perfect" rack by taking all relevant factors into consideration first. Just because a rack has been designed for the purpose of bicycle transport doesn't mean that it will meet your expectations. The number of bikes and the ease of both installation and use of the rack are among commonly overlooked factors and the kinds of details that aren't an issue - until they are.
Number of bikes.
The size rack you need will depend primarily on the number of bikes you intend to transport. Even if you're the only person in the household who rides, consider the possibility of needing to secure more than one bike, such as a weekend riding trip with your biking buddies. Do keep in mind that larger racks take up more space, so if storage space is an issue, a smaller rack might be your best option.
Weight limitations & stability issues.
Some of the most popular low-profile racks come with weight limits that might not be able to accommodate a pair of heavier bikes. If the bikes being transported are on the heavier side, double check to ensure the expected load does not exceed the recommended capacity. Failure to do so may jeopardize your rack's stability and has the potential to create a seriously dangerous situation on the road.
Ease of installation.
Do your research and if necessary, solicit the advice of others who have already tried and tested the racks you're considering. Many truck-owning cyclists can tell you that the ease with which you can install a rack is a total game changer. While most racks are designed to be installed in minutes and as temporary fixtures, there are exceptions; it might be that the rack that's the best fit for you requires drilling into the bed of your truck for installation.
Ease of use.
The ease of securing and retrieving a bike is one of the most critical variables when choosing a rack. If you have to contort yourself into a pretzel to be able to secure or remove your bike from the rack or if any aspect of it is complicated to use, you might find yourself not wanting to use it. The last thing you want to do is struggle with it every time you arrive at your destination.
Some racks come with safety features to better help protect you and your bike, but it doesn't mean that additional security measures shouldn't be taken. Accidents can and do happen. Even the most experienced drivers can encounter distracted motorists, cyclists, or pedestrians; the inattentiveness of these individuals can ultimately result in an otherwise preventable accident.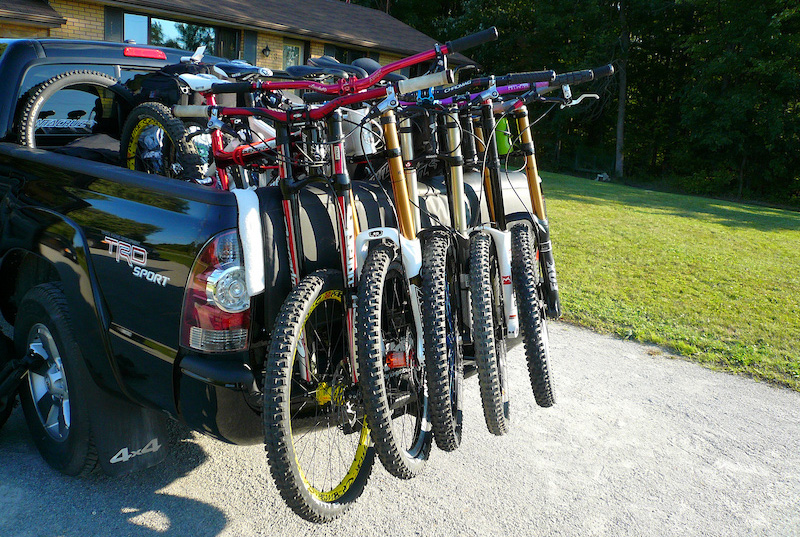 Accidents/Damage
Accidents don't have to involve other motorists, pedestrians, or any kind of outside intervention. You don't even have to be riding your bike for an accident to occur. When it comes to transporting your bike, factors such as poor design, improper installation, or momentary lapse in attention can also lead to an accident.
Theft
To reduce the chances of someone snatching your bike from your truck, it's imperative to secure it in a truck bed with either a chain lock or permanently mounted locks. While cable locks are often used, a seasoned thief is likely to bring cutters, rendering the cable lock a mild hindrance, at best.
Bicycle insurance
Being mindful in how you install, use, and secure your bicycle is an effective way to reduce risk, but no amount of planning is foolproof. A skilled thief can still manage to run off with your bicycle, even if it was properly secured and locked within the truck bed. Collision accidents can still result in significant damage to, or in some cases total loss of your bike, despite every precaution taken when securing your bike before departure or your attentiveness and experience as a driver. When the unexpected happens, having insurance is a great fallback. Velosurance protects you and your bike from a variety of losses, including damage and theft. Our bicycle insurance plans are highly customizable and include options like emergency roadside assistance, medical gap coverage, and liability coverage, which can bring you some peace of mind. Created by cyclists, Velosurance does the worrying for you, so you can focus on the riding.