Simply put, bike touring is traveling by bicycle. Even if you're a novice cyclist, you surely have already discovered the joy and beautiful scenery experienced when riding a bike. Unlike a leisurely ride, bike touring is a more serious affair and requires more preparation, both physical and logistical. However, there's no need to fear: the good news is that anyone can enjoy bike touring. Bike touring is gaining popularity and is enjoyed by riders of every category, from endurance athletes to families with children to cyclists both young and not so young! If you enjoy riding a bike and traveling, then you can bike touring!
Purpose
First and foremost, you need to decide what the purpose is for your expedition. Are you hoping to test your endurance, get out of your comfort zone, spend a bit more time outdoors? Whatever the purpose, it's important that you determine why you are bike touring. Setting a purpose sets the tone of your ride, which will help you be better prepared when you set out on your cycling journey.
Plan ahead
While bike touring is a fun activity that can be enjoyed by almost anyone, it doesn't mean that it should be approached with a laid back, "anything goes" kind of attitude. By its nature, bike tours are much longer than your average weekend ride. Most bike tours are multi-day events, some spanning weeks and even months. Unlike bike camping trips, most bike tour routes run on paved roads within urban and suburban areas, and only rarely run though unpopulated areas and off the beaten path. Just like bike camping trips, they are largely unsupported. Due to its extended length and the limited carrying capacity of a bike, a bike tour requires a significant amount of planning. When you venture outside of your normal riding area, a number of new factors come into play that can drastically affect the outcome of the ride. First and foremost, you must become self-sufficient, because the farther away from home you venture, the slimmer the chances of hitching a ride home will become.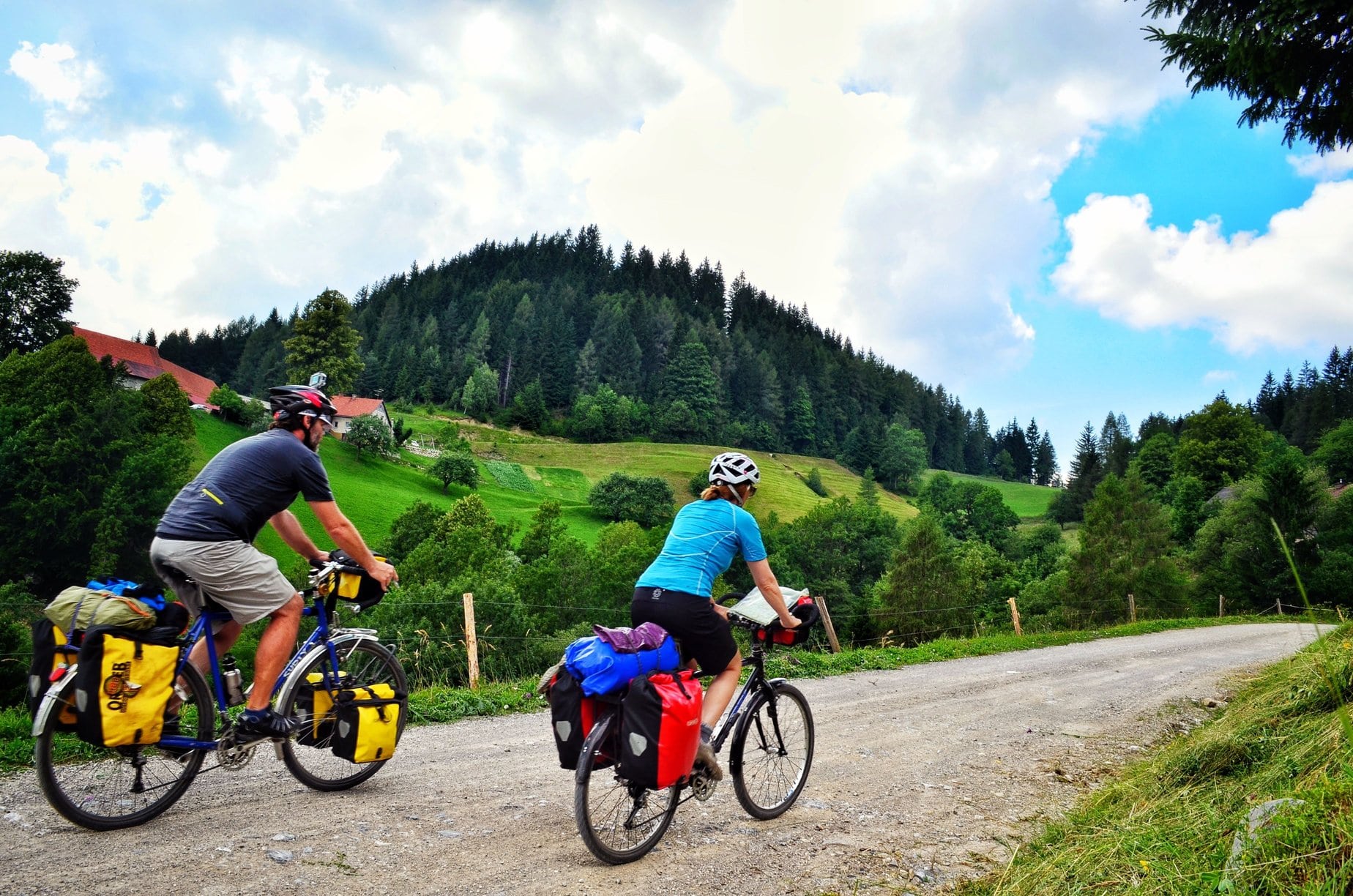 When planning a tour, you must not only plan the route, nutrition and overnight stays, but also for emergencies, ranging from mechanical breakdowns, to inclimate weather and medical issues. You need to be organized and thoughtful, considering an emergency plan for every mile you cover by bike.
Planning ahead for your first cycling trip will depend on your available time, fitness, and gear. However, like any other trip, you're going to want to pack all of the essentials that will be required for you to enjoy both the trip and the destination. Be sure to consider the following when creating your bike touring essentials list:
Purpose of trip

Riding experience

Bike selection and conversion

Gear and equipment selection

Hydration and nutrition

Packing your stuff

Duration of ride and trip

Weather and climate

Ride route and terrain

Overnight arrangements

Safety and Emergency planning

Necessary mechanical skills
Riding experience
If you're an endurance cyclist and have several long-distance rides under your belt, then you're likely experienced enough to set out on a bike touring expedition. One of the best things about bike touring is that you can start small and gradually build your distance, from one ride to the next.
When planning a bike tour, use your previous riding experience as a metric of how much distance you're comfortable in covering. Consider that you will be transporting some luggage on your bike and riding at low to moderate intensity, so it's best to be conservative in your estimates.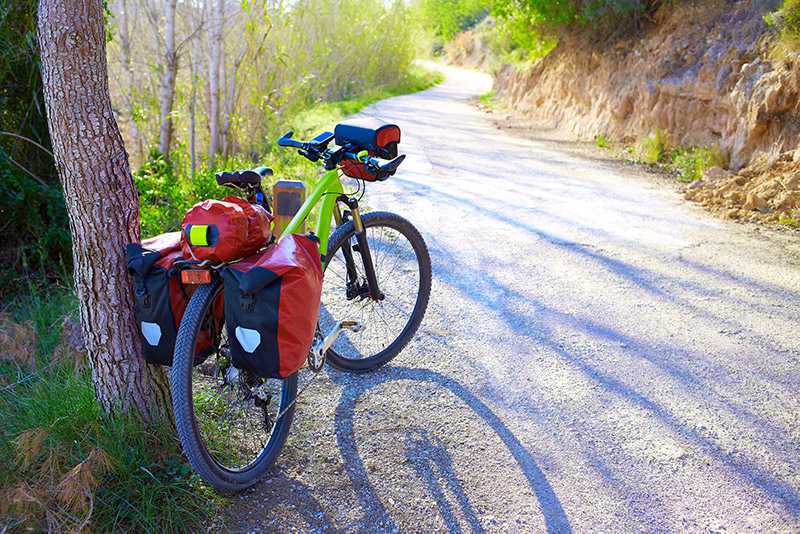 Being realistic about your abilities is of utmost importance since you'll be the engine that keeps the expedition moving forward. If your longest ride up to this point was 50 miles, attempting to ride a 100 miles per day for three days in a row might be feasible, but could also result in an abruptly interrupted and a disappointing trip.
Some bikes are designed with touring in mind, but you certainly don't need to purchase a touring bike to enjoy bike touring. Nearly any bicycle can be used for touring as is or with just a few minor adjustments. The main factors to consider when choosing a touring bike are comfort, durability, appropriate gear ratios, and how much luggage you plan on carrying.
Road bikes
Road bikes are designed to be fast and agile on tarmac, which is probably where you'll be spending most of your time. However, truly high-performance racing bikes have both geometry and components that are not optimized for carrying significant loads. Road bikes make adequate tourers as long as you carry minimal, well-distributed loads and stay on paved paths.
Since the load-carrying capacity of a road bike is limited, expect to take a truly minimalist approach to your packing: a change of clothes, a few personal items, some nutrition and tools is about all you can take. Use 25 lbs (11 kg) of gear as the limit, as anything beyond that can result is questionable handling, excessive braking distance and even speed wobble.
The most vulnerable parts of a road bike are the tires. Most road bikes come with light weight tires optimized for minimum rolling resistance and maximum cornering grip, while sacrificing durability. Proper touring tires are made out of a harder, puncture-resistance compound, have a noticeable tread pattern to provide grip in wet and offroad conditions, and are normally wider (25-28mm) than road-specific counterparts. Almost all touring tires posess a reflective stip to make your bike more visible at night.
Tires to consider: Schwalbe Marathon Plus, Vredestein Perfect Tour, Continental Travel Contact, Vittoria Randonneur Cross Touring.
Cyclocross and gravel grinders
Cyclocross and gravel grinder bikes are off-road capable brethren of road bikes. While they look almost identical, there are many subtle changes that make them much better equipped for touring. These bikes have less aggressive geometry, which makes them more forgiving on rough terrain and more stable on fast descends. They are also equipped with off road-capable tires and possess an abundance of mounting points, which allows installation of a wide variety of fenders, racks, frame bags, and panniers.
Almost all newer model cyclocross and gravel grinders are equipped with disc brakes, which improve brake modulation and significantly decrease the braking distance, especially in the wet and muddy conditions. Older versions of these bikes are equipped with center-pull cantilever brakes, which provide significant pad-to-rim clearance for mud-shedding. These brakes are very easy to maintain and provide superior braking power to road bike caliper brakes, only surpassed by disc brakes.
Overall, a cyclocross or a gravel grinder bike is a perfect touring bike: it requires no mechanical modifications but a simple addition of cargo carrying equipment. As a bonus, these bikes can be quickly converted and even raced as road bikes, with a simple change of tires.
Hybrid bikes
Hybrid bikes, as the name suggests, are designed for both on and off road cycling. While they might not excel in true off-road conditions, unlike road bikes, they can be ridden on unpaved paths and gravel roads.
Hybrid bikes are designed with comfort in mind. The rider is seated in an upright position, which minimizes stress on the neck, shoulders, and back. This upright position also gives a greater range of motion to your head, which generally increases the field of view, which translates to more sightseeing opportunities and improved safety.
Most hybrid bikes are designed to accept fenders and usually have more attachment points for rear racks, panniers and can accomodate a large frame bag.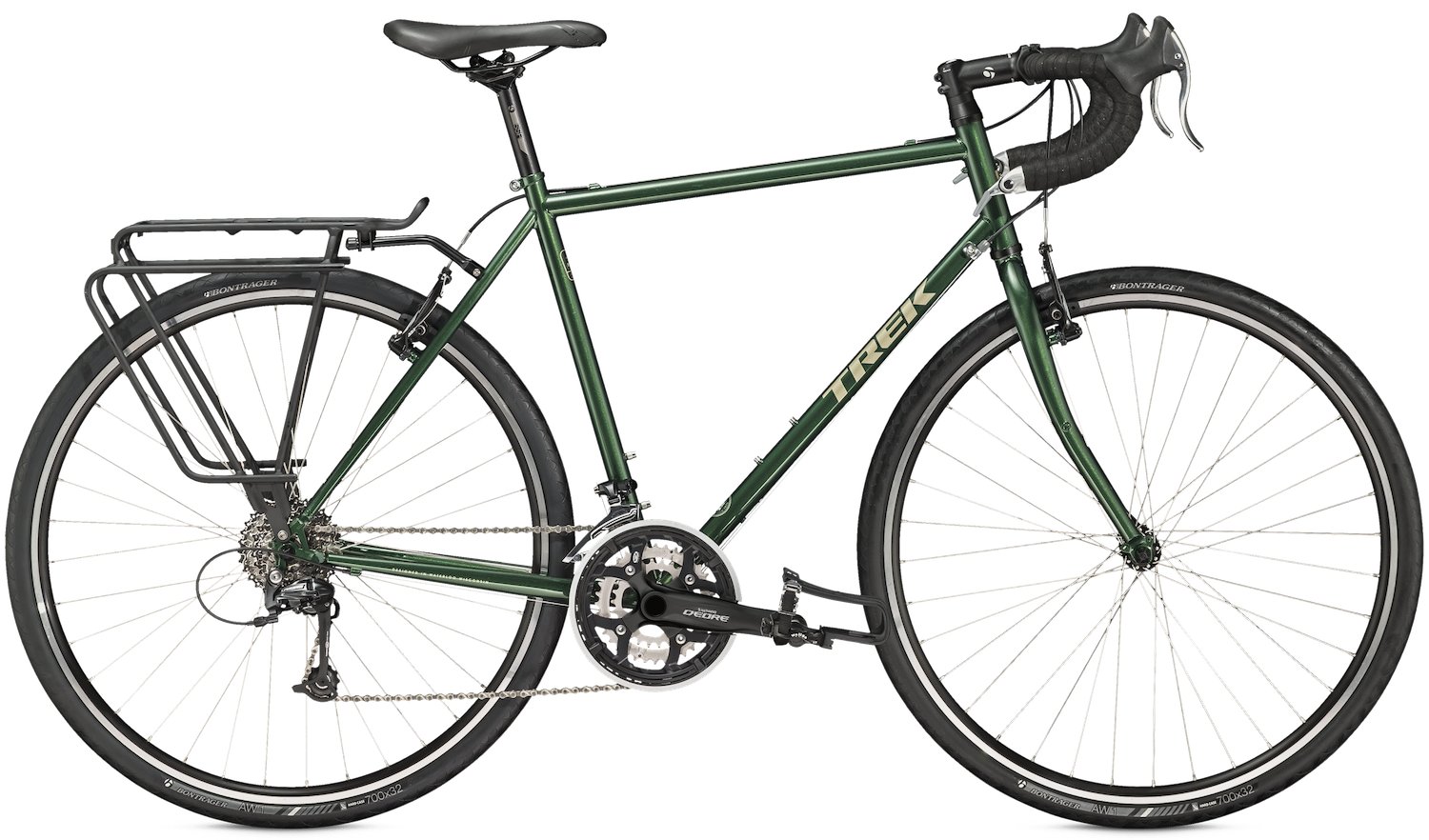 Mountain bikes
The sport of mountain biking is highly specialized and there are bikes for many of its disciplines. Cross-country mountain bikes, especially hard tail ones, tend to make good touring conversions, while others, such as full-suspension, Enduro and downhill bikes do not. For the purposes of this article, we will only consider cross-country mountain bikes as viable touring conversions.
The overall design of a mountain bike makes it a relatively comfortable riding option for longer rides, as the rider is in a more upright position. Mountain bike frames and components are designed to withstand significant stresses, which make them excellent load haulers and long-distance tourers. A mountain bike requires just a few inexpensive tweaks to turn it into a touring machine.
Just as with the road bikes, the best upgrade you can make to your bike is to change the tires. Mountain bike tires are designed to provide maximum traction in harsh off-road conditions while sacrificing weight and rolling resistance. These tires are also designed to run at low pressure and have thick and heavy sidewalls; when inflated to higher, roadgoing pressures, mountain bike tires provide a harsh ride with diminished traction and high rolling resistance. Upgrading to narrower tires optimized for the road will allow you to move forward at a greater efficiency and will result in less fatigue.
Tires to consider: Schwalbe Marathon Plus, Continental Ride Tour, Kenda Kwest.
Since mountain bikes have very strong components and frame, they can be loaded with quite a bit of cargo. There's a large variety of frame, saddle, handlebar and rear racks to fit all needs. If your bike has disc brakes, you'll want to make sure that the rack you purchase is disc brake accommodating and sized to your tires.
Triathlon, time-trial and track bikes
The only bikes that would not be a good choice for touring conversion are triathlon, time-trial and track bikes. These bikes are single purpose "go fast" machines that sacrifice comfort and durability for the aerodynamics. Their geometry is designed to put the rider low and forward, which increases stress on arms, shoulders and back.
Trailers
Trailers might seem like a good idea to carry things on a bike tour, but they are not the best choice for touring. Bike trailers make sense for many specific purposes such as wheeling your kids to daycare or transporting groceries from the store to the home. Such trips are usually quite short and the compromise of a trailer is well-justified. On the open road trailers act very much like car trailers: they negatively affect handling by shifting the center of mass, buffet in the wind, and are notoriously difficult to park. Unless you're a highly experienced cyclist and have an exceptional handle on both yourself and your bike, trailers are not the safest, most efficient option.
Once you've determined the purpose and duration of your trip and have done some research on the anticipated riding weather conditions, you're ready to start gearing up. Since you'll be limited in packing space, focus on only the most necessary items. Whenever possible, opt for lightweight and compact choices rather than heavy and bulky. Below is a list of some bike touring essentials that you should be sure bring along.
Basic cycling gear (shorts, helmet, touring shoes, socks, gloves, tights, jacket) and anti-chafing products (chamois butter)

Rain gear (waterproof jacket, waterproof shoe covers, eye protection)

Sunny, hot weather gear (sun blocking arm and leg sleeves, sunscreen, sunglasses)

Cold weather gear (warm arm and leg sleeves, beanie, winter riding tights, winter riding jacket, winter cycling gloves, winter socks or booties, toe warmer sleeves, winter riding shoes/covers)
Having the riding apparel that best suits the expected weather conditions is one of the best ways to plan ahead for success and comfort. Sometimes weather conditions change throughout the day, going from exceptionally hot and sunny to cool and breezy. In such cases, it is imperative that you pack for both kinds of weather, not just one or the other; you will be thanking yourself later. Once you've selected weather-appropriate attire, be sure to try everything on and do at least one test ride before using it on your trip. It's always a good idea to test out your gear before the tour than to find out that your gear is faulty or uncomfortable when you're far away from home. By wearing the most appropriate gear for your ride and environment, you are enhancing your physical comfort and safety, which will translate to a much more enjoyable experience.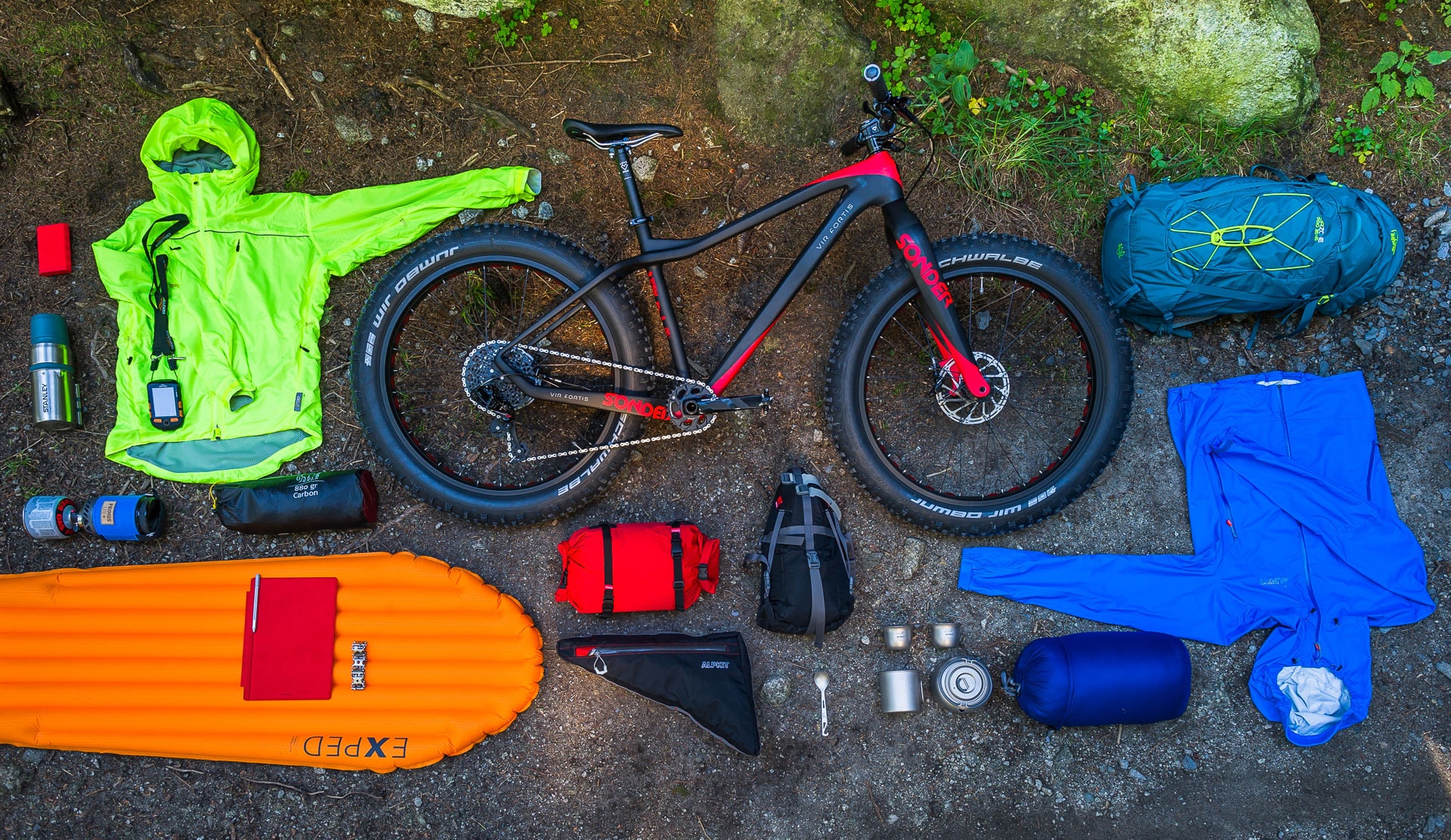 Proper nutrition and hydration are two of the most important details when setting out for a bicycle tour and are absolute key in not only enjoying your ride, but in completing your ride, too. Staying hydrated and eating enough calories is easier than you'd think, but requires some planning and discipline.
It is commonly suggested that the average adult drinks approximately 64 oz of water, daily. While that's a good baseline if you're mildly active, if you plan on engaging in prolonged physical activity, then your water consumption should be greater. You naturally lose fluids through breathing and sweating, so it is absolutely imperative that you are constantly replenishing lost fluids. In addition to water keeping you hydrated, water also aids your body in the transfer of nutrients, which aids in both the completion of exercise and the recovery process. The exact amount of water that should be consumed will vary from one person to the next, but 12- 16 oz of water per hour is a safe bet. To be more specific to your needs, you can weigh yourself before and after a timed ride to determine your approximate fluid loss. Setting an alarm to sound every 15 minutes as a reminder to hydrate is a simple, yet effective, way to ensure that you don't find yourself dehydrated.
While plain water is sufficient when completing shorter workout, it is highly recommended that you also consume beverages with electrolytes, as they help your body retain water and avoid various dehydration effects, such as cramping or heat stroke. Sports drinks are created with athletes' needs in mind and are an excellent way to replace electrolytes. There are also several powder supplements on the market that can be added to plain water to compensate for lost electrolytes.
What foods to pack will primarily depend upon your dietary and nutritional needs. While everyone is different and has different needs, compact, non-perishable foods (jerky, peanut butter, boiled potatoes) tend to be the best options, as they are packed with essential nutrients (protein, salt, carbohydrates) and don't require refrigeration. If you're still struggling to consume the nutrients and calories necessary for you to feel fueled for your ride, then nutrition gels and powdered supplements might be the way to go.
The foods and beverages you consume during your ride are critical to your overall bike touring success, but two often overlooked factors in the planning process are your nutritional needs before and after your ride. Just as you must ensure that you are properly fueling your body during your ride, how you choose to fuel your body before and after your ride is equally as important. If you set out for your ride without properly hydrating or don't take in necessary calories, carbs, or protein, your body will be quick to remind you of your mistake. Eat sufficient carbohydrates the night before, along with sufficient carbs, proteins, and water consumption the morning of your ride.
Whatever hydration and nutrition plan you decide on, make sure that it provides you with all of the vitamins, minerals, and nutrients that your body needs in order to successfully complete your ride. Be sure to eat and hydrate before, during, and after your ride; your prep and recovery nutrition and hydration are just as important as your nutrition selection for the ride itself.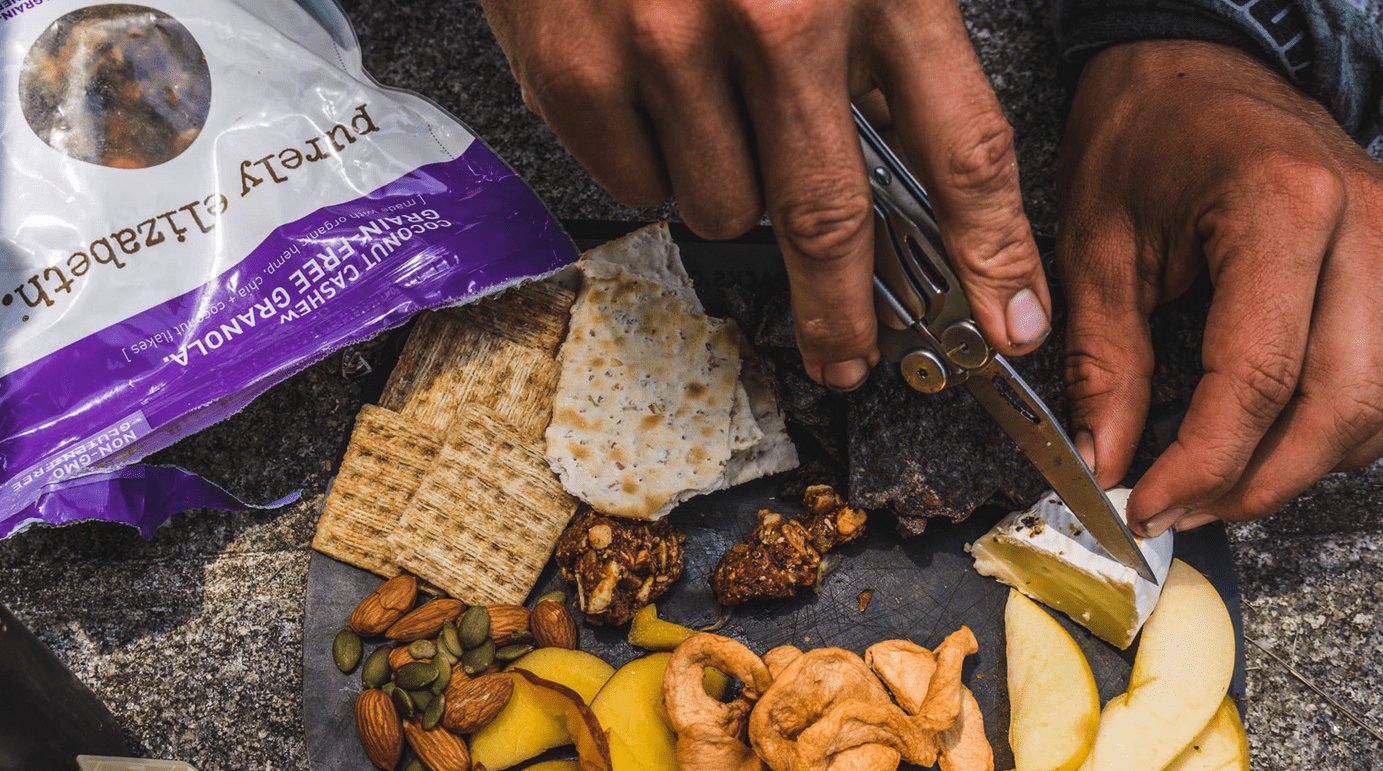 So you have all your gear sitting in front of you. Now what? It's time for the daunting task of packing. However, with a little homework, this task doesn't have to be daunting at all. A good habit to develop whenever getting ready for a long bike ride is to create a checklist that you can follow. Even after you've checked everything off your packing list, you've still got one more step: test everything out at home to make sure it all works. Having broken or dysfunctional equipment is worse than forgetting to pack it at all.
Depending on your needs, your best bet to carry all your stuff would be either a frame bag or a pannier. A pannier bag attaches to a rack that usually sits over the front and rear wheels. They are an excellent option if you do not have too much gear or if you are sticking to paved roads. Whichever packing method you choose, try to keep your total load weight under 45 pounds.
If a pannier is your preference, keep a few things in mind when loading up. First, be aware of the weight you're adding to your bike. You'll have to play with weight distribution, as all bikes and riders have different needs. Typically, heavier items, such as tools, food, and water, are carried on the front pannier, while lighter, bulkier items, such as sleeping bags and tents, are packed on the back. By distributing your load accordingly, you are enhancing you and your bike's stability.
When setting out for a bike tour, it is crucial that you learn how to pack and load up your bike in a safe, efficient manner. To ensure your items are kept dry, even in the worst weather, line your panniers and other bags with plastic garbage bags. While most panniers are water and weatherproof, you can never be too safe. The last thing you want to deal with at the end of your ride is wet clothes and sleeping gear. And finally, take your bike and equipment out for a test ride before the big day. The most effective way to plan ahead is to go for a test ride. If anything feels "off" or isn't stable, it's better for you learn ahead of time than during your ride.
It can be hard to determine the most appropriate distance that you should aim to cover each day. This is another reason why it's important to identify the purpose of your trip early on. The harder and longer you push yourself, the less likely you are to enjoy it. If your goal is to get your ride over as quickly as possible with little regard to your enjoyment, then maybe it's okay for you to aim high. However, if your greatest interest is in taking in your surroundings, perhaps you would be better off covering fewer daily miles. A reasonably fit cyclist should expect to cover roughly 50 miles per day on a hybrid bike with 50 pounds of cargo. If you are an experienced endurance cyclist, you can reasonably expect to cover many more miles in one day than if you're still fairly new to riding.
Also keep in mind that the duration of your trip directly correlates with what items you will need to pack. If you're planning longer riding days, then you should plan on carrying more food, water, and spare clothes.
Ultimately, the only person who knows how long your trip should be is you. Whatever you decide, be sure that your riding goal is realistic and that you can complete it safely.
The expected weather and climate of the terrain you will be riding through might be one of the most important factors to consider when preparing for a bike touring trip. For example, if you find that you will be riding on a day where it is expected to rain, then you will need to plan ahead to ensure that both you and your gear are as waterproof as possible. If your riding day is predicted to be hot and sunny, then you're going to want to pack plenty of water and protection against the sun. Failure to familiarize yourself with the expected weather you will be riding through can result in an early end to your tour.