The rewards of conquering winter weather on your bike are many. You never have to worry about getting stuck in traffic or jump starting your vehicle because the cold weather sapped your battery. With careful attention to your riding gear, bike equipment, and riding skills, you can enjoy riding year-round.
It would be natural to think that you'd need to bundle up to ride in winter weather. However, overdressing is a mistake you don't want to make. Your body produces heat that can leave you hot and sweaty if you're wearing too many clothes. Unless temperatures drop below freezing, a few basic breathable layers are all you need to stay warm and comfortable on your winter ride.
Build your winter wardrobe on a solid base. The layer closest to your skin should wick moisture away from your body to keep you dry. Stay away from cotton, which absorbs sweat and will leave you shivering. Synthetic fabrics designed for outdoor use that wick moisture away from your skin and dry quickly are best for the job. Avoid synthetic base layers that don't breathe well or have rough stitching as you might end up not only sweaty and possibly smelly but also chafed.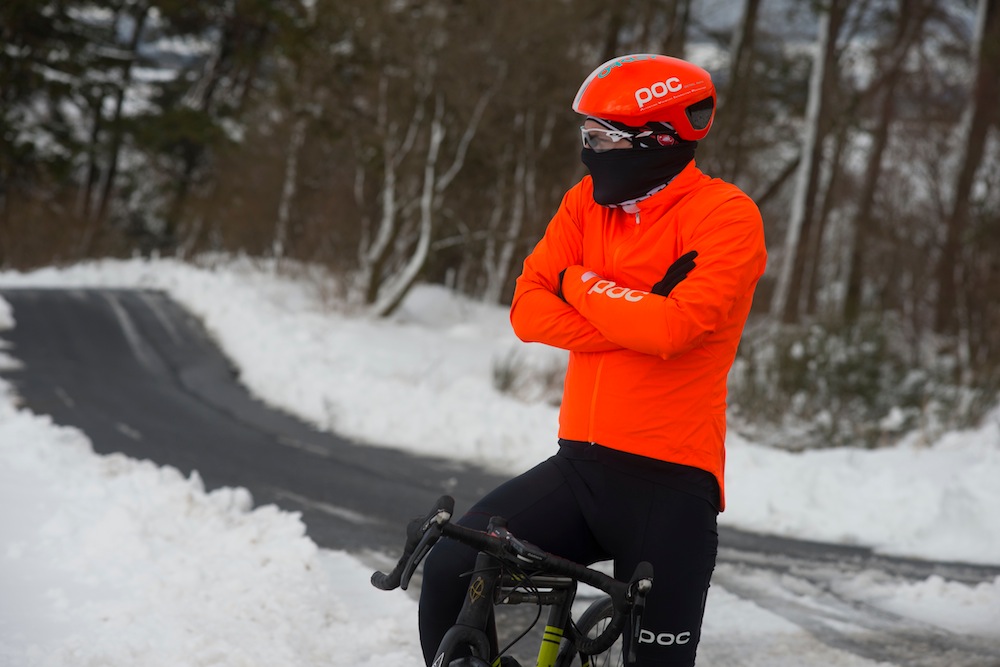 Top your base with additional layers based on the outdoor temperatures. Use light, thin layers of merino wool or outdoor synthetics. A fleece layer gives insulation sufficient for even the coldest cycling conditions.
Avoid hoods as they can block vision and hearing, and can even balloon in the wind.
Protect yourself from the weather by adding a breathable yet waterproof top layer made from Gore Tex or similar materials. Look for a drop back and extra-long sleeves that won't expose skin or other clothing when you're riding. Since the cycling position has the rider leaning forward, you might find that athletic clothing that wasn't designed for cycling will expose your lower back.
Don't forget to keep your extremities warm. A fleece beanie under your helmet will keep your head toasty while preventing sweaty locks. Top your helmet with a rainproof cover during wet weather. Water and wind-resistant "lobster mittens" can be warmer than gloves by letting your fingers to stay close and share heat. Keep your tootsies toasty by wearing snow boots or roomy shoes layered with warm wool socks.
Enjoyable winter riding involves more than just getting on your bike and pedaling down the road. And while cycling attire is the the first step in ensuring that you are properly prepared, it's not the only important measure you should be taking. Prep your equipment to make sure it's ready for winter conditions.
Before heading out for your ride, you need to decide whether your bike is winter-worthy. Some winter bicyclists buy a second bike to use exclusively during winter. Bikes with few or enclosed gears, fenders and no suspension usually top their preferences. Why? Chemicals, salt and sand find their way into gears and chains, causing wear and requiring thorough and regular cleaning. Suspension fluids become gelatinous as the temperature drops, making your bike feel slow and heavy. Fenders are essential to minimize exposure to grit and moisture to both you and your bike.
Another factor to consider is the location where you are storing your bicycle. While bringing it indoors after a chilly ride might seem like a good idea, it might actually be harmful to your bike. Your bike will perform better if you keep it in a garage or shed where it can stay cold. Rapid and sizeable changes in temperatures that take place when you bring the bike into and out of a warm house can result in microscopic cracks forming on critical components such as disc brakes and spoke nipples. Ice tends to form more quickly on brakes and gears when you bring a warm room-temperature bike into winter conditions.
Remember to check your tire pressure before riding. Changes in temperature cause tires to deflate rapidly, it's not unusual to see pressure drops of over 10 PSI overnight. Make checking tire pressure a part of your pre-ride ritual to avoid potential accidents or damaging your rims.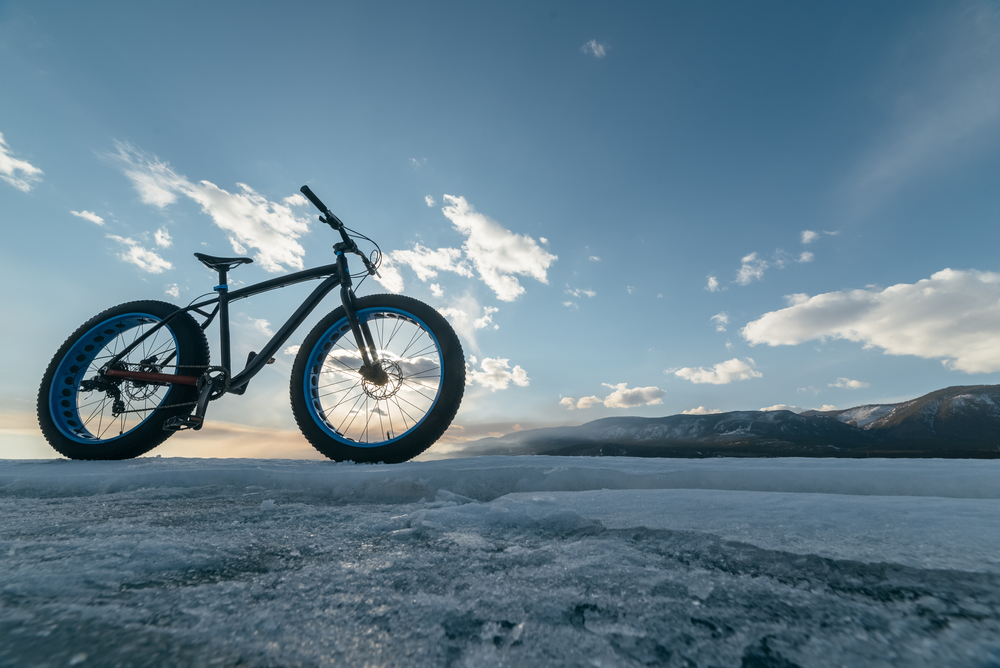 Your choice of tire is also important. Wider tires let you glide over snow and roll over icy ruts that can trap skinnier tires. However, some winter cyclists swear by the skinny versions that break through the snow to contact pavement because they concentrate your weight over a smaller area. Tires with wider-spaced tread or inverted sipes, the tiny carvings on the edge of the tire, promote snowshed and work best. Carbide-studded tires are a good investment if your ride takes you over ice-covered roads on even frozen lakes on a regular basis.
Always light it up. Winter conditions such as rain, fog, and snow can make you more difficult for motorists to see. Make liberal use of clip-on LED lights on the sides and back of your bike to increase your visibility to others, even during the day. If you're commuting, invest in the brightest headlight you can find that gives a wide-viewing angle to conquer dark winter commuting hours.
Make sure to fuel your engine. Your body will burn more calories in the cold weather, so ensure that you increase your caloric intake before riding and bring snacks along for during and after your ride. Remember to hydrate, drier winter air pulls more moisture from your body, leaving you dehydrated long before you feel thirsty.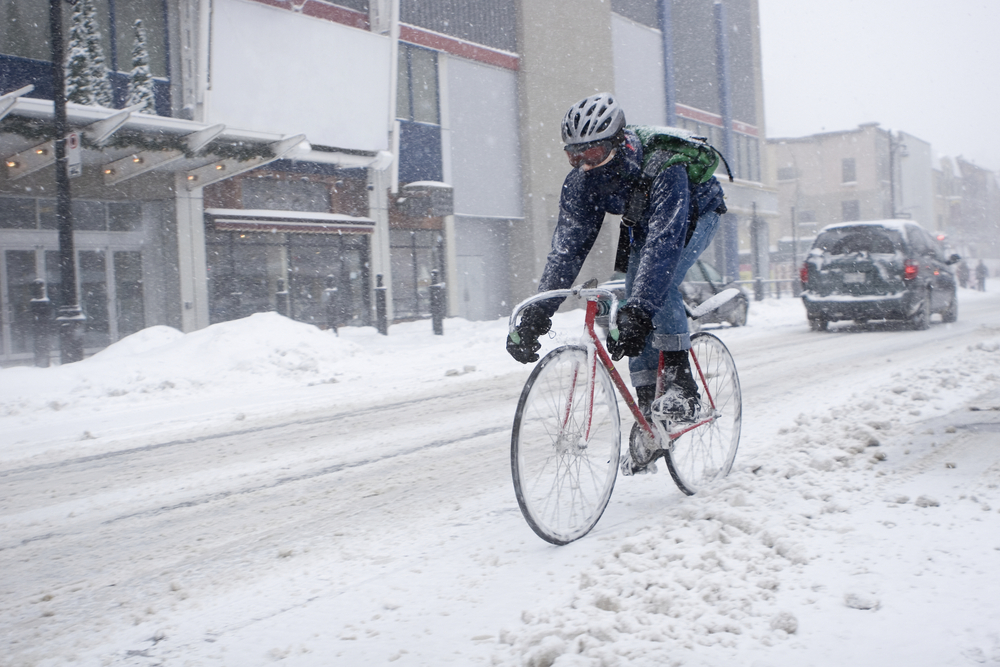 It's easy to make the mistake of riding too hard, too soon. Build up your distance and pace slowly. There's no need to white-knuckle the switch to winter riding all at once. If you're commuting, combine your ride with bike-friendly public transportation or drive your car part way to work and ride the rest. Work up to pedaling the full distance twice weekly and add in more days as you become acclimated to cold weather cycling.
Even if you're a seasoned rider, Use extra caution. Slow down on slippery roads and use just your rear brake to avoid spin-outs when you're on a slick surface. Stay slightly away from the curb where debris, ice and snow collect.
Wear a solid base layer

Add additional layers based on weather

Wear protective weather gear when necessary

Keep your extremities warm

Decide if your bike is winter worthy

Keep your bike in cold storage

Check your tires before riding

Light up

Fuel your engine

Build up slowly

Use extra caution
Even with careful preparation, the worst can sometimes happen. Buying bicycle insurance is the best way to protect yourself should your bike become lost, stolen or involved in an accident any time of year.