Cloudy skies with a forecast of rain might make you change your mind about heading out on your bike. You are not alone: cyclists from Miami to Portland deal with rain and its challenges every day of the year. Check out these simple tips and you'll be pedaling like a pro, rain or shine.
Even in the summer, getting wet is a quick way to get uncomfortably cold or even expose yourself to hypothermia. There's no pleasure in arriving at your destination as a shivering, soggy mess. There's a saying in the outdoor sports community "there's no bad weather, just bad gear" and it applies to cyclists as well.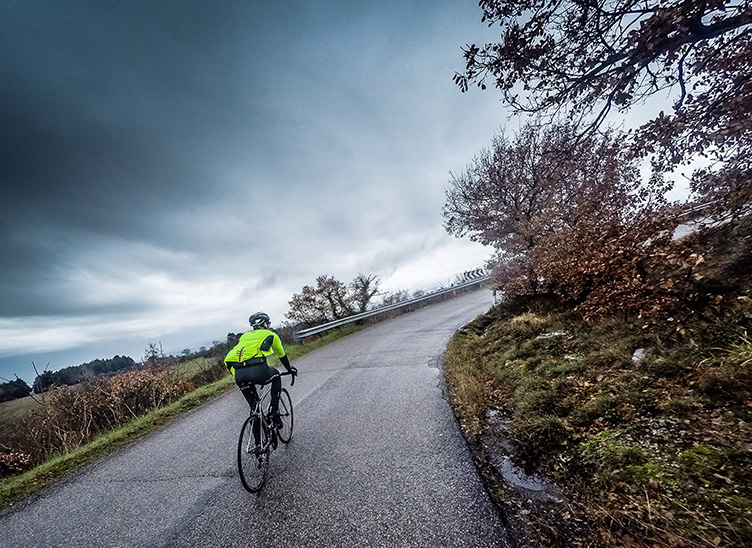 While riding in the rain will never be as comfortable as a blue sky day ride, if you chose to dress wisely, you just might enjoy the ride. Dress to stay dry and keep your core warm with a wicking underliner made from polypropylene or other quick-dry material. Top your outfit with a waterproof jacket or vest made from Gore-Tex or other breathable materials to keep you from sweating. Avoid hoods, which can block hearing and vision. Instead, use a breathable helmet rain cover to keep your head dry. Finish your rain outfit with waterproof shoe covers ("booties") and gloves that will repel water.
If you've ever been in bicycle shop, then you know there's a plethora of gear and accessories available. While it's mostly a matter of personal preference, it goes without saying that there are some rainy day riding staples you should add your arsenal if you haven't already.
Lenses: Normal sunglasses make everything appear much too dark on a rainy day, so get yourself a pair of clear or yellow lenses for rainy days; they also work great after sunset. Look for styles that offer good protection and offer adequate ventilation to prevent fogging. Rain washes bits of debris onto the roadway, increasing the odds of those bits rocketing toward your eye in road spray thrown up by passing cars or even your own tires. Look for ballistic-rated eyewear that will stand up to high-velocity impact without cracking or shattering. Yellow lenses increase contrast, helping you spy out roadway debris. While not generally recommended on most days, polarized glasses can be helpful if you find yourself riding on wet pavement that is reflecting light from headlights, street lights, or nearby buildings.

Wipe your lenses down with an anti-fog product to keep them from steaming up from your body heat as you ride down the road. Keeping your eyewear scratch free requires a little bit of effort but will increase its longevity: rinse them off with water inside and out and then wipe the lenses with a soft cloth in small movements. Washing the lenses first will knock off microscopic debris that could scratch the lenses otherwise. Keep a small microfiber cloth with you at all times, you'd be surprised how handy it will come in!
Protect your possessions: keep your papers, electronics and anything else you carry with you safe by investing in a waterproof messenger bag, backpack or panniers. Important details like a roll-top design, covered zippers, sealed side seams and secondary liners keep your stuff protected from even the most torrential downpour.
Riding in the inclement weather has its inherent risks: while visibility and traction are diminished, braking distances increase. Navigating otherwise familiar terrain will require noticeably more attention. Drivers, cyclists and pedestrians around you will experience similar increase in mental workload. You will have to be more diligent to keep yourself and others around you safe.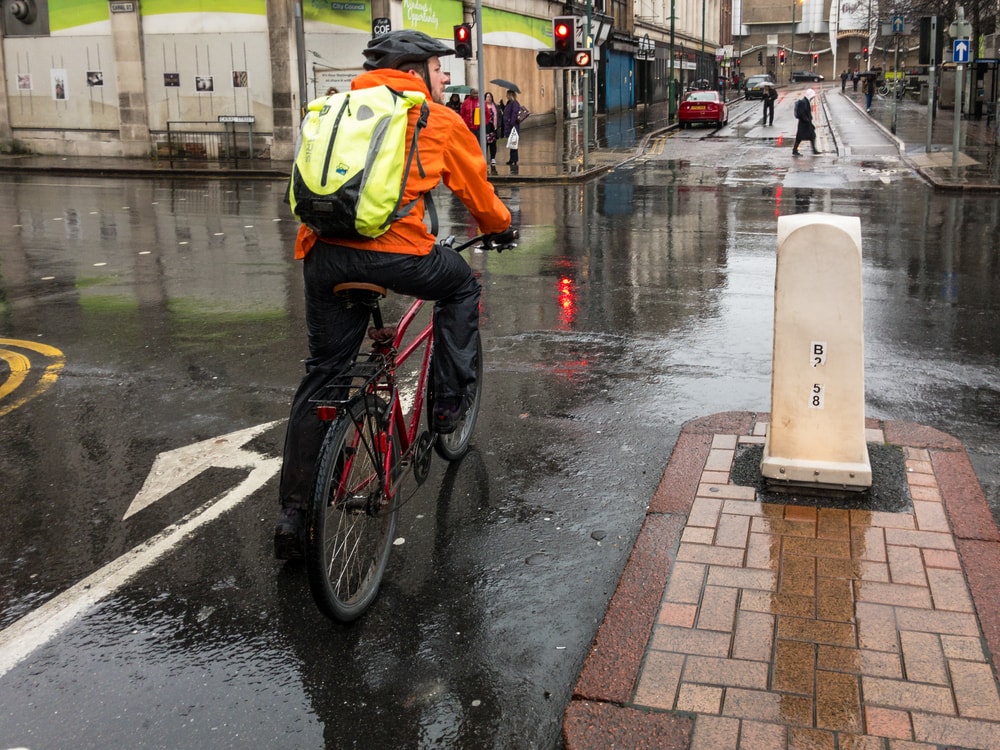 Light up your ride
Traffic accidents increase by as much as 203 percent during rain, according to statistics by the California Highway Patrol. Make sure drivers can see you during gray weather, heavy downpours and drizzle. Reflective strips on clothing and bike can improve visibility, but clip-on lighting for your bike and helmet further increase your odds of being seen.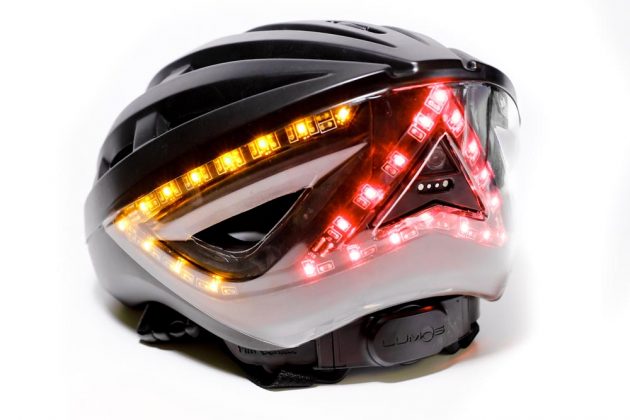 Cut back on road splash
Install fenders on both wheels to keep your tires from spraying you with road splatter. Long fenders also minimize the amount of dirt and grit that finds its way into your bike's drivetrain. If you're not a fan of fair-weather riding with fenders, get clip-on models that you can use when the weather's wet.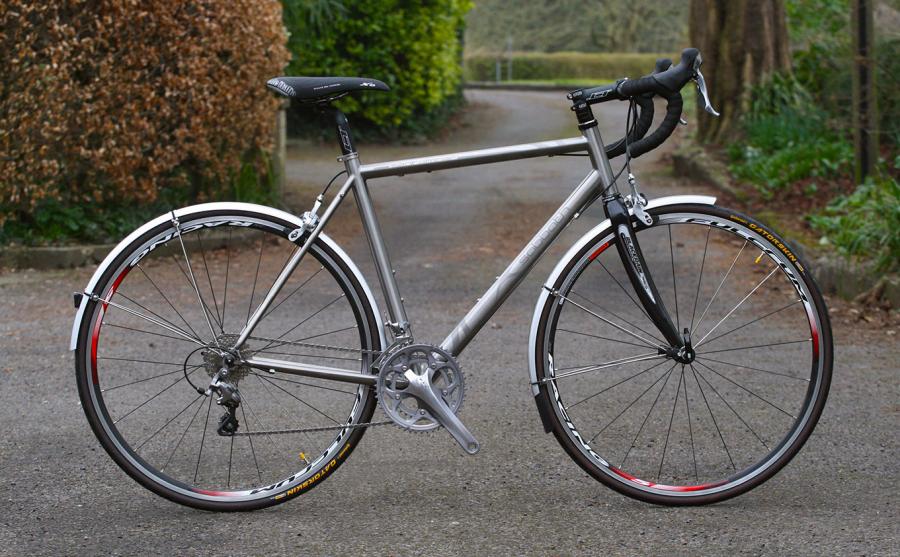 Check your brakes
Your brake pads won't last as long when riding during rainy weather, thanks to increased grit and moisture. They will take longer to stop you once they get wet, too. It usually requires a full revolution of the wheel for brakes to clear the water from the braking surface so they can do their job. Make sure to clear the brakes out by slightly pumping them after riding through a puddle.
A rainy day can be a beautiful thing. After all, many other cyclists have opted to stay home or take other forms of transportation, so you have the bike lane or trail almost to yourself. Stay on the lookout for rainy day dangers to make sure your idyllic ride doesn't take an unexpectedly bad turn.
Slippery pavement
Moisture brings road oils up to the surface, increasing your chances of sliding as you turn, brake, and maneuver. Watch for shiny rainbows in puddles on the roadway that indicate an oily patch. Ride more slowly, brake gradually, and stay more upright during turns to reduce your chances of a slick-induced spill.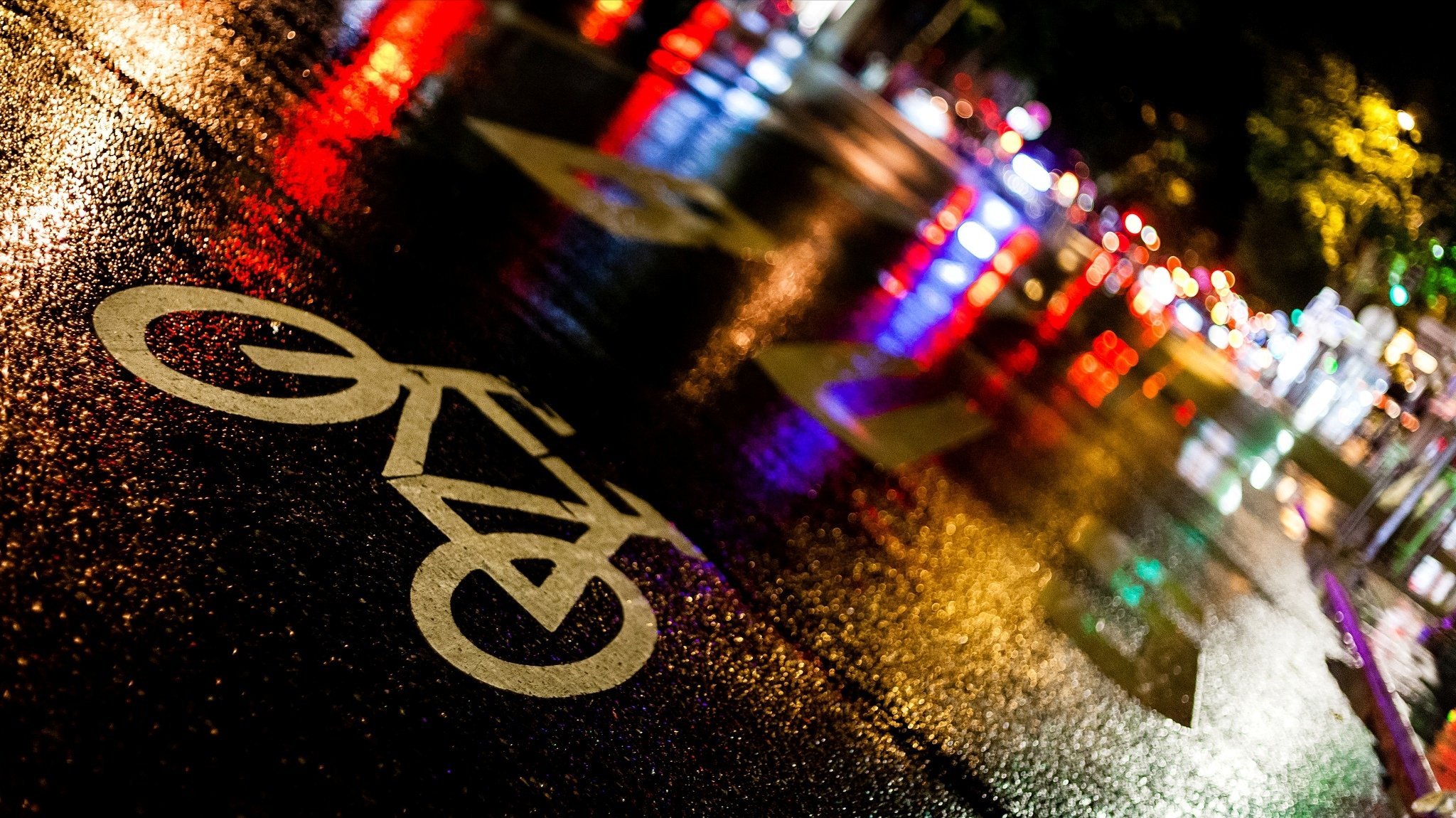 Other slippery road hazards
Anything metal will be especially slick during rainy weather. This includes steel-grid bridge decks, manhole covers and railroad tracks. Painted traffic markings and bricks are also slippery when wet, so keep your handlebars straight when riding across them to avoid a slide.
Hidden dangers
Riding fast through a puddle may have been a childhood delight, but puddles are best avoided unless you can see what's underneath the water's surface. Hidden potholes, construction excavations, rocks or super-slick mud could be lurking beneath the calm surface of a seemingly innocuous puddle.
Lightning
Download a weather app with a lightning tracking system such as WeatherBug to determine the chances of dangerous lightning before you set out on your ride. Areas like Colorado, Arizona and other Southwestern states are known for quickly developing late afternoon summer electric storms, so plan rides for morning hours when possible. If you hear thunder while riding, seek shelter in a building with plumbing and electricity or an enclosed metal-topped vehicle. If none are nearby, get off of hills, away from bodies of water and out of open areas. Avoid seeking shelters under an isolated tree or rocky overhang.
Even with careful preparation, the worst can sometimes happen. Inclement weather can leave you stranded, or in some cases, cause for you to end up in an accident. In any of these cases, you will likely need a friend whom you can call to come rescue you. Buying bicycle insurance is another way to protect yourself in such situations. Velosurance offers roadside assistance for these kinds of unfortunate circumstances. And should your bike become lost, stolen or involved in an accident any time of year, you're protected.