The size restriction of 62 linear inches that most airlines adhere to as being oversized is impossible to conform to for most fixed frame bikes in a travel case. Even the ultra-compact Trico IronCase traveling bike box measures 45" x 28" x 12" or 75 linear inches. The box itself weighs 26 lbs so packing a bike and some accessories into the box you will certainly exceed the 50 lb over weight restriction.
When you consider that some airlines charge overweight and oversize you can be looking at a $300 cost to fly with your bike, one way! Some airlines have a "bicycle fee" to fly your bike but don't rely on the ticket agent at the airport to know the rules about flying with bicycles. The rules they do know are overweight and oversize. To counter their argument you need to print the airline bicycle shipping rules to show the agent what the bicycle fee is.
People were often able to sneak them in as normal luggage. Unfortunately, airlines have caught on and in the vast majority of situations readily identify this as a bike. If in doubt, the airline attendant will ask you if it's a bike and you have to answer truthfully. This is one of the situations where not being 100% truthful can get you in a lot of trouble, especially if they decide to make an example out of you.
Soft cases such as Aerous were a way around the airline fees when flying with a bicycle as they are not easily identifiable as bike cases.
So in short, the days when you could fly with your bicycle in under a disguise of regular luggage are over. So, if you're going to be paying the bike fee, wouldn't you want your bike arrive safely? You might as well use a hard case like Thule as it will most definitely improve the chances your bike getting to your destination in one piece.
Bike Flights provides a valuable guide that will help you properly pack your bicycle for shipping.
Upon arrival at your destination and you pick up your bicycle you will be very tempted to throw the case in the car and leave. It's totally understandable - airports are high-stress environments and it's natural for you to remove yourself from stress. Don't rush: there's an important piece of information that you probably don't know unless you've had a bike damaged by the airline. When you arrive at your destination and recover the bike from the airline you have a 4 hour window to inspect the bike and file a claim if it's damaged. When the 4 hours expires, so does your claim for damage.
Once you get your bike from the airline, find a quiet corner, open the case and inspect the bike. When transported by the airline, the case probably has quite a few bags loaded on top of it. You can safely expect at least 100 pounds of weight to be placed on top of the bike case during transport.
The most commonly damaged areas are:
Chain stays

Seat stays

Top tube

Fork
while there's not much you can do about the top tube, you can reinforce the chainstays, seatstays and the fork by placing a double-ended bolt and securing it with nuts on each side in both the fork and the rear dropouts. If you're using a soft case, this is an absolute must and $10 in Home Depot parts can save your precious carbon frame.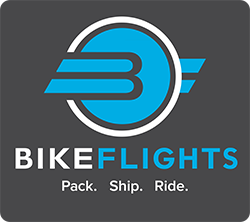 Another way to transport your bike is to ship the bike using a service like BikeFlights to a local shop at your destination and ask the shop to open the box and build up the bike. While ground shipping take a few days, it is reliable and costs a bit less than flying with the bike. An added bonus is that quite often the bike shop will store your box until the return trip.
The convenience of stepping off the plane and being able to pick up your ready to ride bike and not haul the bike box with you makes shipping to a local bike shop a good alternative.
Where Velosurance steps in
Until recently, filing a damage claim with the airline was your only alternative when the bike was damaged in transit but now you have the option of purchasing a 12 month insurance policy to protect your bike from a multitude of risks, including airline damage.
Velosurance offers a multi risk bicycle insurance policy underwritten by a major, A rated USA insurance company that covers the bike for almost any damage or loss. Annual premiums are more than reasonable and the policy can be extended to cover your bike world wide, so if you travel with your bike a Velosurance policy will protect you from loss or damage by the airlines.
Whether you are a world traveler or riding your bike locally, a Velosurance policy offers peace of mind that if something unexpected happens, you have a cyclist-owned company to assist you through the claim process and the security of the number one recreational insurer in the US to pay your loss. Get your free bicycle insurance quote at Velosurance.com