While cyclists share passions, cycling often means different things to different people. That's why Velosurance does not offer one-size-fits-all insurance policies. Rather than just covering your bicycle under your homeowner's or renter's policy (and not having a clear idea of what would happen should you need to file a claim), Velosurance offers an insurance policy solely dedicated to the needs of a cyclist. After all, it's all about keeping you riding.

When you choose Bicycle Physical Damage coverage, your policy will pay the cost to repair or replace the bike (including fixed accessories like your HR monitor or GPS) up to the policy limit, for losses caused by sudden, accidental direct physical loss or damage to your bike. In other words, your bicycle will be covered for such losses as collision, crash, fire, theft, attempted theft, vandalism, or hitting another object. Our clients are also able to decide what their deductible should be, $200, $300, or $500. Along with your Velosurance Bicycle Physical Damage coverage we include 4 additional coverages, absolutely free. Why? Because it just makes sense.
If your bike is involved in a covered loss and you need to rent another bike while you're at an organized race, event, or trip 50 miles away from your home, your policy will reimburse you up to $250 of the rental cost. Bottom line: we don't want you to miss the opportunity to ride after all those training days.
It's happened to every competitive cyclist at one time. That is, not being able to compete in a race you've trained months for because your bike was damaged in a covered loss. What's more, thinking about your entry fee going to waste doesn't make things much easier. To help ease your mind, your policy will reimburse the nonrefundable portion of your pre paid entry fee, up to $500 per occurrence ($1,000 total per policy period).
If you're like the riders at Velosurance , you probably have more spare parts than you know what to do with. But just because they aren't being used doesn't mean they shouldn't be covered. That's why your policy will provide up to $500 of coverage per occurrence ($1,000 total per policy period) for sudden, accidental direct physical loss or damage to the insured bicycle's spare parts.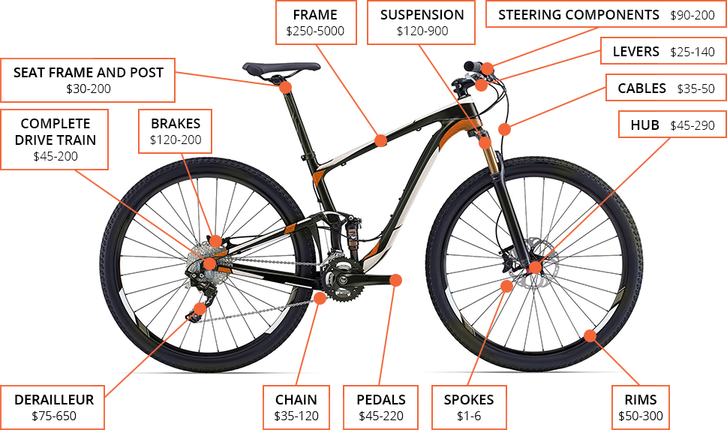 After a cycling accident, there's typically a lot of things on your mind. Worrying about replacing damaged cycling kit should not be one of them. That's where Velosurance comes in. To help you get back on your bike as quickly as possible, we will provide reimbursement for up to $500 worth of riding apparel that was damaged in a covered accident ($1,000 total per policy period). So rest up, get better, and enjoy your new cycling kit when you're ready to pedal again.

The fact is liability insurance does not cover your injuries but it does cover the injuries or property damage you cause to other people/property and for which you are being held legally liable. Unfortunately, there's always a chance of you causing an accident when you're riding. All it takes is a wet corner or a momentary lapse of concentration for you to lose control. So, rather than you personally paying for the damages (injury, sickness, death, or damage to property) you cause, Bicycle Liability coverage will pay instead - up to the policy limit you select. We offer this coverage at (per occurrence) combined single limits of:
Remember, liability insurance does not cover your injuries - only the injuries and damages for which you are held legally liable.
One of the best parts of cycling is the freedom, but this freedom sometimes can come at a cost. Whether you're mountain biking, or riding on roads filled with cars, pedestrians, potholes and other cyclists, accidents unfortunately happen. With Medical Payments coverage, your policy will help cover some of your medical bills, up to the policy limit. This coverage pays to supplement the deductible of your personal health insurance policy. Choose from a per person limit of:
$1,000
$2,500
$5,000
$7,500
$10,000
Sharing the road with motor vehicles has its dangers. While we can't protect you from that driver texting while driving, we can help protect you financially after a bike versus car accident or being struck by a driver who doesn't have insurance or enough coverage to pay for your injuries. This coverage is available as a (per occurrence) combined single limit of $25,000 or $10,000.

Help, I broke my chain 30 miles from home and it's almost dark. Every mile is filled with the unforeseen and that's why we're here. For $12 a year per bike, our nationwide 24-hour Emergency Service will provide up to 35 miles of transportation for you and your bike per breakdown (total of five occurrences or breakdowns per policy period). So ride on. Velosurance has you covered.