Getting into cycling as an adult
If you didn't grow up riding a bike through your neighborhood streets, you might find cycling a bit daunting at first. However, it's just as easy for an adult to learn to ride as it is for a child. Find a quiet place to practice, such as an empty parking lot or a park where you won't have traffic to contend with. Some exercises, like learning to balance and getting on and off your bike, are easy to try out in your own yard. Follow these easy steps, and you'll be on your way to cycling success in no time.
Getting the right-sized bike is crucial to your success in learning to ride. Don't just pick up a bike at a yard sale that looks like you could ride it; unlike a kid, you won't be growing. Investing in a bike that fits you just right is money well-spent.
Your height is a good indicator of what size bike you'll need. Unlike kids' bikes that are measured by their wheel size, adult bikes are measured by standover height, which is the distance from the ground to the top of the top tube. Check out the helpful chart below.
If you're this tall, you'll need this size bike:
| Height | Frame size |
| --- | --- |
| 4'11" to 5'3" | 13 to 15 inches |
| 5'3" to 5'7" | 15 to 17 inches |
| 5'7" to 5'11" | 17 to 19 inches |
| 6'0" to 6'2" | 19 to 21 inches |
| 6'2" to 6'4" | 21 to 23 inches |
| 6'4" or taller | 23 inches or more |
Of course, everyone is built a little differently, so everyone has different requirements: some people have longer legs, and some have a longer torso. These measurements are essential to bike safety as they ensure you can safely mount and dismount.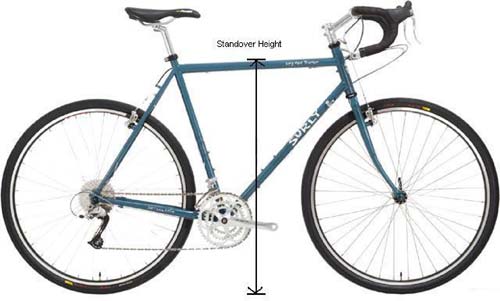 Your standover height is determined by measuring your true inseam.
To measure your inseam you will need a hardcover book, tape measure and pencil. Once you have these handy, follow these steps:
1. Stand against a wall with shoes on

2. Straddle the book, spine up, as if you were sitting on a saddle

3. Mark where the spine of the book meets the wall with a pencil

4. Measure from the mark to the floor, this is your inseam

5. Repeat the measurement a couple times to make sure it's accurate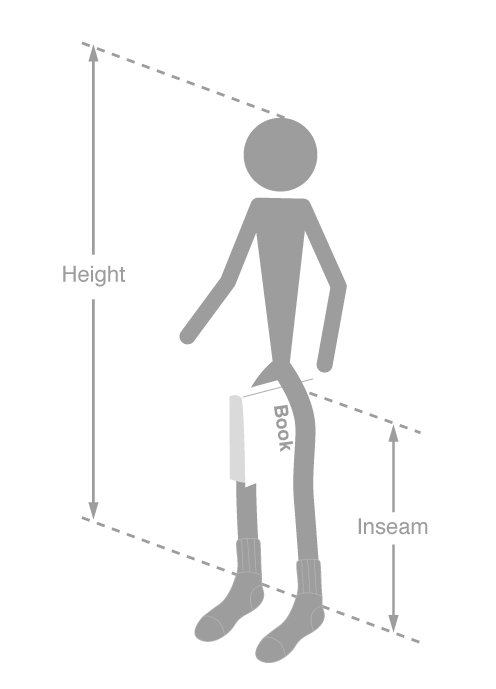 A word of caution: don't use your pants inseam that is chronically inaccurate.
Learning to brake properly is one of the most important ways to prevent falling off your bike, so begin before you even get on your bike. Take your bike for a walk and practice using the brakes until it becomes second nature and you're acquainted with which brake lever controls the rear brake and which controls the front. Expecting what your brakes will do will save precious seconds during your first rides when you're figuring out how to stop safely.
If your bike has a coaster brake, which stops the rear wheel when you pedal backwards, ensure that you have a feel for how it works by lifting the rear wheel off the ground, spinning the pedals forward and engaging the brake by spinning the pedals in reverse. This motion often feels counter-intuitive but it becomes second nature very quickly.
Practice getting on and off your bike while you're applying the brakes so it doesn't roll. Sit on your bike with one of your feet touching the ground and the other one on the saddle, to get your body comfortable with the overall feeling. If you can put both feet flat on the ground while sitting in the saddle, your saddle is too low. While being able to put your feet on the ground might feel safer, it actually isn't: this position reinforces bad technique and is likely to result in a crash and injury when you put both feet on the ground instead of relying on your brakes in an emergency situation.

Learning to pedal, steer and brake at the same time can be a lot to coordinate. If you feel that the pedals are getting in the way, convert your bike into an adult balance bike by removing them with a wrench. Scoot the bike along with your feet to get used to balancing on two wheels as you learn to steer and brake on a level surface. Although pedal removal isn't absolutely mandatory, doing so prevents banged-up ankles and will stop you from trying to progress to the next step before you're ready.
After you feel comfortable scooting along on your bike, push off and glide. See how far you can get before you need to put a foot down to correct your balance. To increase steering skills, set down plastic cones or other soft objects to practice navigating through. Once you've mastered gliding, steering and braking, you're ready to put your pedals back on your bike.
Start with one foot on the ground, and place the other on a pedal that's in a two o'clock position to give you some leverage. Push off with the foot on the ground, and immediately press down firmly with the foot on the pedal. Lift your other foot off the ground, and alternate pressing with each foot as it reaches the two o'clock position. Your balancing and gliding practice will really pay off at this point. Pedaling ahead quickly rather than slowly makes it much easier to keep your balance.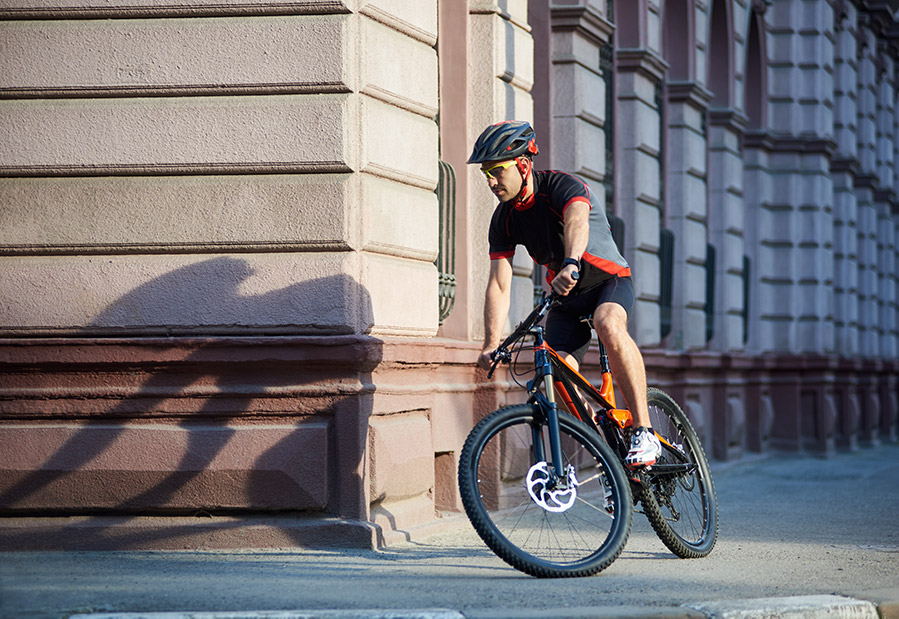 Keep practicing your bicycle skills along park pathways until you're confident in your skills. Before using your bicycle as transportation around town, make sure you're familiar with laws, hand signals and riding safety tips that apply to specifically to bikes. Knowing where to safely ride your bike on a roadway, how to merge with vehicular traffic, and how to avoid getting "doored" when someone emerges from a parked car are crucial to your bicycling success and enjoyment.
Remember, there's more to riding your bike than balancing and pedaling. Learn to do basic bike maintenance yourself to make sure you don't have a mechanical breakdown on the road. Basics like properly inflating tires, checking for brake wear, and wiping down moving parts after a ride will go a long way to keep you safe on the road and your bike in top condition.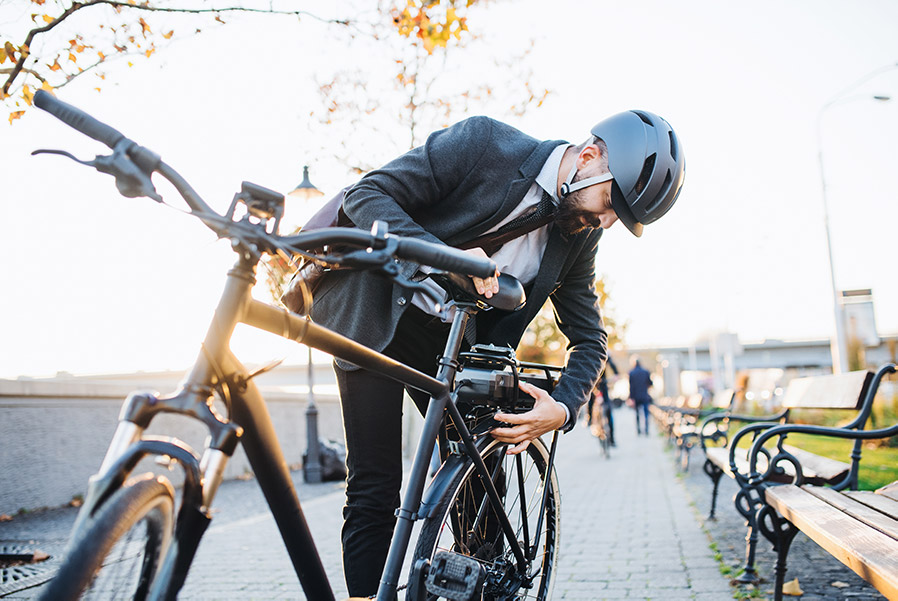 Get used to wearing your bike helmet right from the start to protect your head, and always select the right cycling gear for the conditions you'll be riding in. If you plan on riding in areas that can get foggy or rainy, invest in extra lights and reflectors that will make you more visible to motorists. Finally, insure your bicycle against loss, damage, theft and liability to protect you financially should the unexpected happen.
Finally, it would be prudent to consider bicycle insurance to protect yourself from financial strain should the unexpected happen. Velosurance policy covers your bicycle against loss due to damage or theft and you for liability. The policy can even be customized to manage specific risks associated with your riding lifestyle.